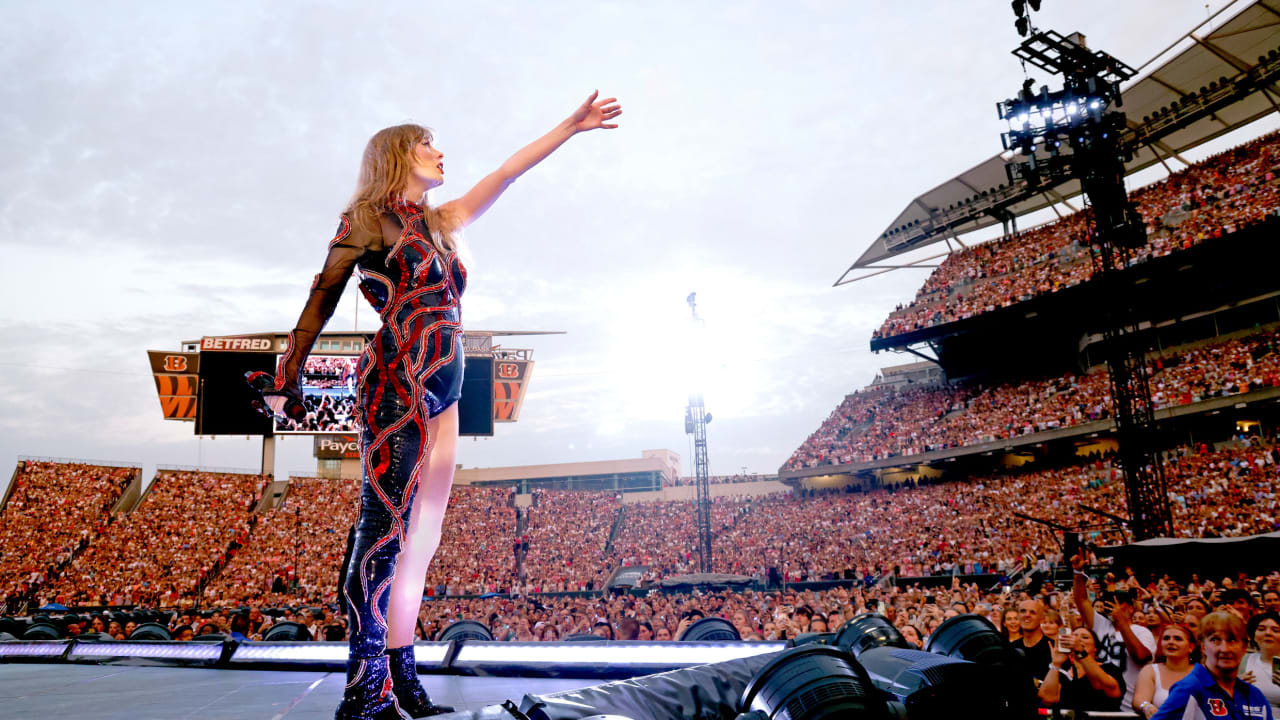 In the weeks leading up to June 16, 2023, when I attended the Pittsburgh leg of Taylor Swift's Eras Tour, online chatter about the 33-year-old singer had become exhausting.
The internet was ablaze with rumors that Swift was dating Matty Healy, the lead singer of English pop-rock band The 1975. had become mired in controversy for appearing on a podcast whose hosts made racist comments about the rapper Ice Spice.
As the Pittsburgh leg of the tour approached, I wondered if I was about to dive headfirst into an angry mob of tens of thousands of Swifties.
On the day of the show, Acrisure Stadium was packed with 72,000 people, but the Swifties in attendance were far from angry.
At that point, we became deeply bonded by our shared love and admiration for Swift's music. Sociologist Emile Durkheim has described this phenomenon as "collective effervescence," the unique surge of feelings when large groups of people come together for a common purpose.
"It was rare, I was there, I was there," Swift said during "All Too Well."
I was there, too, as life events touched by Swift flashed by: sitting in front of my first desktop computer as a teenager in Kathmandu, Nepal, replaying "Love Story" on LimeWire; my first week in the US, at the 2009 MTV Video Music Awards, when Kanye West sadly interrupted Swift; how Swift's eighth studio album, Folklorebrought me back to life after it looked like the world was about to implode in 2020.
collective delirium
The Eras Tour was not my first experience of collective excitement. It wasn't the first time I felt such a disconnect between the online and offline worlds either.
Just before the pandemic began, there was the painfully quiet fizzle of the Bernie 2020 movement. As a volunteer for this campaign, I had the remarkable experience of connecting with other Americans who wanted a presidency of Bernie Sanders.
I particularly enjoyed how this role connected me to the people who make up the Nepalese diaspora in the United States. We hoped to improve our immigration experiences, whether it was easier access to health care or no longer fearing the deportation of our loved ones.
But then repeated cycles of news about the "toxic Bernie Bros" seemed to drain the momentum of the movement. Mainstream media reported that Sanders' base was made up of white male cyberbullies. The negative tweets had been amplified, and the words and behaviors of a few Sanders supporters were suddenly portrayed as representative of an entire movement.
The contrast between what was being said online and my own experiences was shocking: Here I was working to find transportation for 80-year-old Nepalese grandmothers who spoke no English but wanted to vote for Sanders.
Post-election analysis would show that the Bernie Bro trope was fully constructed; there was no evidence showing that young white men made up the majority of Sanders supporters. The movement, in fact, consisted of a diverse coalition of people from marginalized races and genders.
A vocal minority sets the agenda
Online narratives distort real life more often than you might think.
Research consistently shows that a small minority of people who have social media accounts post the vast majority of content.
In what is known as the "90-9-1 rule", 90% of users of these websites simply "hide" or read content, 9% respond or repost with occasional new contributions, and only 1 % frequently create new content.
Pioneered by Jakob Neilson, the 90-9-1 rule is one of many theories in internet studies that describe turnout rates, and different researchers find support for different variations of this rule. Reddit, for example, has over a billion monthly active users, but according to a 2017 conference paper, an overwhelming majority of Reddit users are prowlers. X, the website and app formerly known as Twitter, had around 350 million users in 2023; however, research from 2019 found that 75% of its users were walkers.
In other words, most of the discussions that take place on websites like Reddit and Twitter come from a vocal minority of users, whose posts are then curated and driven by algorithms.
Nonetheless, over the past decade, the news media have increasingly constructed collective reality narratives based on what happens on these websites.
Of course, toxic online behavior exists in all online communities. But this represents the words of a smaller minority of users within the already small minority of people who post content online. Media narratives that highlight certain groups as being toxic because of their behavior online – whether depicting fandom or politics – fall into the trap of confusing the internet with real life.
In the weeks that Swift was dating Healy, a vocal minority of Swifties clashed with a vocal minority of Healy advocates. Then the celebrity couple ended their relationship and the collective attention shifted away from that topic almost immediately.
Several weeks of endless debate, attacks, and hand-wringing ended up meaningless except for the social media companies that converted that brief obsession into clicks, engagement, and ad revenue.
Today, stories about reproductive health care take up very little space in the news media compared to trending garden variety topics like "Barbenheimer" – the hit double release of the movies. Barbie And Oppenheimer July 21.
In the real world, many people continue to suffer from the lack of access to lifesaving reproductive health care across the United States, while the online chat class celebrates the radical feminism of the Barbie movie.
It may be time to sideline social media and the internet when assessing the nature of our collective reality. Reality exists outside of our devices, as social media algorithms push whatever keeps us tethered to the screen. There is little evidence to support the idea that online discourse represents collective experiences.
That may be easier said than done: 94% of journalists say they use social media for their work.
But as an internet researcher – and a fan of Taylor Swift – I hope experiences like the Eras Tour will wake up more people to the fact that human beings are more united than social media algorithms would. believe.
---
Aarushi Bhandari is assistant professor of sociology at Davidson College.