Aiden McGeady is one of the most talented Scottish footballers of a generation, but he is destined never to be seen as such. His decision to represent the Republic of Ireland had the strange ripple effect of removing his name from the conversation regarding the top products of the youth systems – in this case, Celtic – in his native country.
It could have been about taking advantage of McGeady while he lasted. Now 37 and after a spell at Hibernian was cut short by injury, he finds himself at a crossroads in his career. McGeady is keen to keep playing but understands his options may be limited. "I know what it looks like," he said. "At my age it's a tough sell for a manager. Let's go sign a 37-year-old player who hasn't really played for a year. I'm in great shape now, I trained until the end. end of my contract at Hibs on June 30th.
"I know a lot of people who think they retired too soon. I still appreciate it. I still love to compete and train every day. I love to play and the main thing is that I know I can still play. I went to Hibs thinking, 'I probably shouldn't be playing at the highest level in Scotland', but I knew that last season when I was fit and training I could still do what I wanted to do. I'm not as quick as I used to be over 40-50 yards, but I can still get past people to get a cross or a shot. I'm proud to still be able to play.
McGeady has always been known for his dazzling wing play and outspoken opinion. This last element, underlined by the fact that McGeady is articulate and intelligent, has sparked speculation that he could be a difficult player to deal with. "I understand that when you become a manager you have to exercise authority," he says. "But I've seen managers do so many things that annoy players. Why would you annoy players? You should put them aside. When I was young I was pretty quiet, but as I got older I would be more vocal in meetings I think I'm perfectly easy to deal with, if things are done right.
McGeady famously and regularly clashed with Gordon Strachan, before a £9.5million move from Celtic to Spartak Moscow in 2010 made the winger the most expensive sale in the top flight Scottish. They have only met once since; McGeady accepted Strachan's handshake in a hallway after the player returned to watch an Old Firm game. "You are maturing, aren't you?" said McGeady. "Maybe he was pushing me so hard because he saw something in me. I just felt that the expectations and the criteria for me were different. To keep my place, I always had to perform.
McGeady broke the Scots Abroad mold by successfully completing a four-year stint in Russia. A move to Everton in 2014 – Roberto Martínez had pursued McGeady for a considerable time – seemed perfect to all concerned, but he was never more than a peripheral figure at Goodison Park.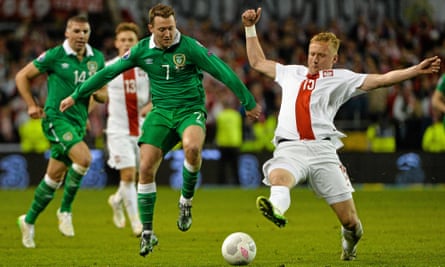 "I went in January and was supposed to acclimate for a few months, we finished fifth in the league," McGeady recalled. "I had a really good pre-season and scored against Leicester in the first game of the season. Then, in what was a microcosm of my time at Everton, I was on the bench the following week because that we change tactics to play against Arsenal.
"I started the next game and scored a goal, then I was back on the bench. That was really how it went until I wasn't even on the team anymore. A return to Celtic, then managed by Ronny Deila, was mentioned. "I always had that itch, I thought I could come back to Everton. After that, the Celtic window probably closed.