Iit should have been too much. Five Ashes contests, six Test matches, just over seven weeks, right at the end of it all, a visiting team that's been done. The Aussies had spent day three groping around the pitch like sleepwalkers heading for the fridge that ended up in the linen cupboard, and by the start of the next day they had 384 wins. England had enjoyed the emotional browning of the announcement of Stuart Broad's retirement, having had the entire third evening and fourth morning to polish the idol.
Australia played ball, lining up in a guard of honor as they descended the steps to strike with opponent Jimmy Anderson, the teams setting up a few overs to give Broad a chance to hit a final six in a career that featured 55 of them. That should have been it, Australia waiting to be overwhelmed with the task at hand and the workload that precedes it before strapping the Ashes Trophy into its own airplane seat and flying it home at 2- 2.
Except that after Australia played ball, Australia played cricket. Usman Khawaja and David Warner faced Broad and company with a caution that became more decisive. Warner might have dreaded becoming cause for Broad's farewell celebration, but instead drove him into cover for four to close out the first. Khawaja entered the innings with the same control he had shown in the first innings, but looking easier to score, in conditions that were still cloudy but not as dark and difficult as the first time around.
The pair did not become Zak Crawley and Ben Duckett, striking at five in the first exchanges, but their first 10 overs yielded 38. Broad seemed to mostly be looking for wickets, getting the side of the leg wrong and being picked to shuttle the pasta up and back. Khawaja shoved Anderson to the ground for bounds in consecutive balls.
Meanwhile, England's bowlers were falling like it was a heated game of Guess Who? Moeen Ali played five overs but was unsurprisingly hampered by his groin injury, slipping in full throws and leg stump limit balls in five overs before Joe Root took over. Mark Wood didn't appear until after lunch, unthinkable if he was in good shape, and landed three ferocious overs, then left the floor looking more russet than Ben Stokes. It was just before the drinks, at which time the rain fell to end the day halfway through.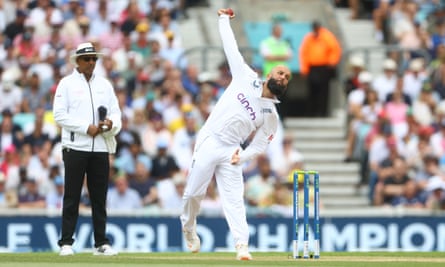 By then, Khawaja and Warner had assembled their best stand in the series. That streak started well: 29 and 61 at Edgbaston, 73 and 63 at Lord's, falling to four and 11 at Headingley, 15 and 32 at Old Trafford, and bouncing back with 49 and the current 135 not out at the Oval. Of all the Australian partnerships in the series, he trails only Travis Head and Mitchell Marsh with 155, and still has a chance to top him.
Khawaja seemed to have found his footing, content to defend for periods but managing to find runs with soft hands beyond the cord or remarkable precision through the gaps when Stokes packed the offside for Anderson with a version from the Yorkshire wall. Warner did what he did throughout the series, wrestling with his limitations, wrestling with the desire to pursue a broad line off the stump, surviving an established field that refused his usual singles, finding other places to score.
Finally, with the absences of England, it was one more battle of the veterans. Broad and Anderson, Warner and Khawaja – we could have had the farewell fixtures, but all are probably saying goodbye to Ashes cricket and Australians in this country.