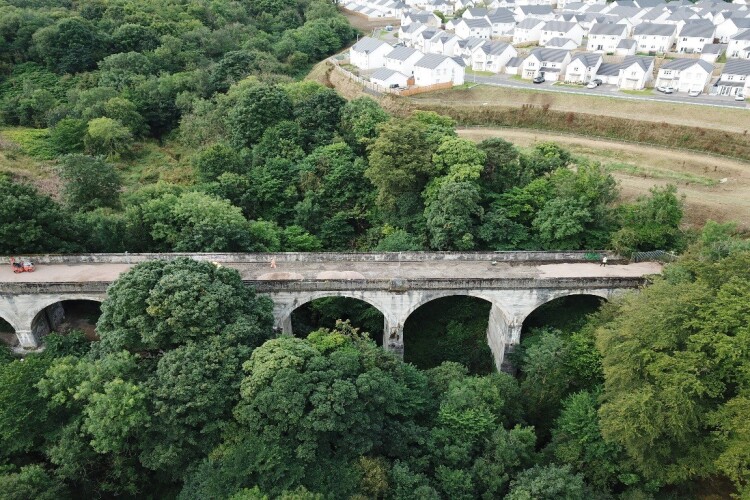 A detailed maintenance program comprising over 240 separate repairs has been carried out on an unusual concrete viaduct in East Renfrewshire.
The six-arched Aurs Burn Viaduct, built in 1901, once carried a railway line but has been closed for over 80 years. It is now run by National Highways on behalf of the Department for Transport – although it is neither a motorway nor England – as National Highways is home to the Historic Railway Estate (HRE), which looks after the structures redundant railways.
The Aurs Burn viaduct is atypical because it is made of concrete.
The viaduct spans 350 feet above Aurs Burn Creek which flows from Glanderston Dam and descends towards Barrhead. It was part of the former Paisley and Barrhead District Railway, which included a number of passenger stations which were never used as the line only carried freight. It closed in 1941.
The first phase of restoration work was completed by Balfour Beatty in November 2021 and included resurfacing the bridge and repairing the concrete arches in spans five and six, which were in the worst condition.
Once the first phase was completed, the access cradles were used for a detailed inspection of the other four spans. Some of these repairs required stainless steel anchor dowels drilled into the underlying solid concrete to anchor the repair mortar to the existing structure. Repairs to four closed shelters were also carried out to make the structure safer for pedestrians. Work resumed in March 2023 and was completed at the end of May.
HRE engineer Colin McNicol said: 'We only have five concrete viaducts in the whole estate which makes Aurs Burn very special and we are delighted that the work has been successful and the viaduct is preserved for many years.

"It was a big job with concrete mortar repairs, carefully matched to the original, covering nearly 400m² of area. The bridge and sidewalk have been redone and the pipes have been cleaned to minimize water dripping onto the structure. Japanese knotweed and other plants were also removed before they could cause further damage.
"It is very satisfying to see the viaduct back in good condition, especially as it is being used so well by the local community, including two schools which are on either side of the fire."
The Historical Railways Estate (HRE) is a collection of over 3,100 structures and assets (including 583 in Scotland) that once formed part of Britain's railway network. National highways have received widespread criticism from campaigners for simply filling in small redundant bridges to minimize their exposure to liability, cutting off existing or potential rural lanes.
However, despite being exposed to recklessness, the National Highways is sometimes sensitive to heritage. Filling these larger structures would be a trickier proposition. Around 80 renovation, maintenance and repair works were completed in Scotland in the year 31st March 2023, including several major restoration projects on notable structures.
Colin McNicol added: "These structures are important reminders of our industrial history and we are committed to keeping them safe. We already have more than 40 maintenance projects scheduled for this fiscal year and more will be added as work is identified from reviews of our structures. We are also developing larger repair programs on 18 structures in Scotland over the next two years; including the prominent underground bridges crossing Cumberland Street and Cathcart Road in the Gorbals.
Maintenance and repair work across the country is carried out by a group of six contractors: Hammond ECS, Amco Giffen, Balfour Beatty Construction, Beaver Bridges, Bethell and Dyer & Butler.
You have a story? Email news@theconstructionindex.co.uk