Ohen Boyd Holbrook slumps into a chair for our interview, it's been about 18 hours since the premiere of his latest film. That movie was Indiana Jones and the Dial of Fate, premiered at the Cannes Film Festival and, despite uneven reviews, it was met with a five-minute standing ovation in the hall. As we speak, Holbrook is obviously still trying to process the whole thing.
"The level of stimuli was comical," he drawls. "It was out of sight, man. A standing ovation like that has a real life of its own. It goes, you know, from pure love and admiration to, 'OK… are you gonna stop? OK, no, go ahead', to 'That's a little awkward, isn't it?' to 'Oh, that's great. It's a while.'
If you've seen footage of the premiere, this will undoubtedly be the moment when Harrison Ford, who has just received an honorary Palme d'or from festival director Thierry Frémaux, looks around the room with tears in his eyes. . For a landmark like Ford, who has spent much of his 80s gruffly rejecting any form of sentimentality, being so visibly emotional hits like a jackhammer.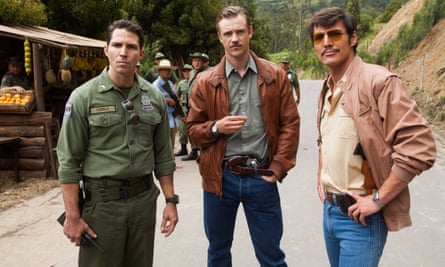 "It was really fascinating to watch Harrison go through all of this," Holbrook marvels, simultaneously playing with a vape pen and a cocktail stick on Zoom, from one of the anonymously dark back rooms that the festival usually tries to hide. to the public. " It is really touching. When you're trying to get a sense of what's going on in real time? Wow."
Holbrook's own role in The Dial of Destiny isn't particularly big — he plays a henchman to Mads Mikkelsen's Nazi villain, and most of his screen time is taken up by scenes of him shooting guns. people or desperately wanting to shoot people – but it's memorable. Much of the film's publicity material, for example, involves a sequence where Indiana Jones rides a horse through the New York City subway, being chased by Holbrook. It's probably not a spoiler to reveal that Holbrook's primary motivation in the scene is a desire to shoot Jones.
While the part wasn't the most important, it clearly wasn't the one Holbrook was going to turn down. Now 41 years old, his career is exploding in all directions at once. After playing the meaty role of DEA agent Steve Murphy in the Netflix series Narcos, he recently rose through the ranks as Corinthian, a walking nightmare with teeth for eyes, in The Sandman adaptation of Neil Gayman. On paper, he is well beyond the small roles of henchman. But of course he said yes to Indy. Not only is it the kind of thing he can do very comfortably in his sleep – very few actors working today can play Creepy Violent Second Banana with his visceral level of taste – but it's also a movie of 'Indiana Jones. For him, as for a whole generation of adults around the world, the first three Indiana Jones films are essentially imprinted on his basic DNA.
"One of my earliest memories is actually watching these movies with my sister and my dad in my living room," says Holbrook. "That moment when they jumped out of the plane and landed on the mountain in the raft…that sense of adventure! And everyone knows Indiana Jones. It's really, really wild. It's hard to verbalize. »
To some, however, Holbrook is still better known as Donald Pierce, the irredeemable Creepy Violent Second Banana who spent most of Logan in 2017 doing his best to assassinate Wolverine. Like The Dial of Destiny, Logan was directed by James Mangold. How does it feel, I ask, to be the first person to pop into Mangold's mind whenever he needs a piece of shit?
"Well, he definitely creates characters that don't think they're crap," he replies moodily. "In the first conversations [for Indiana Jones] we had, he said 'I want to give you this part, but I don't want to offend you.' I don't know if it was because I would play a Nazi or because the role was small.
Initially, Holbrook's character was written in German, but he pressed Mangold to instead be an American who we see trying to learn German. "It's because he's so shitty no one will get him except Mads," he says. "This guy really wants to belong to anybody. And it doesn't get any more human than that.