EEven by the lofty standards of the Ashes and cricket's most legendary rivalry, the anticipation for the past few days has reached a level approaching critical mass. During a sunny build-up in Edgbaston, as players prepared, bar staff loaded stores like missile silos and mowers buzzed around the outfield, there were an abundance of knowing looks and smiles snapshots, each interaction quickly followed by theories and predictions. The stage is finally set, the pyrotechnics locked and loaded, and all we need now is that initial spark.
It arrives at 11 a.m. on Friday morning when, in front of 25,000 spectators and hopefully millions of spectators and listeners at home and abroad, the first matured ball is sent – a moment that makes it- even part of the 146-year-old legend. In the past, they sailed past the stump, flew away to the second slide, whistled at the rope or slammed into the wood; often it means little, sometimes it sets the tone.
In the latest series, he unquestionably did the latter. When Mitchell Starc blew the stump of Rory Burns' leg on a feverish Gabba 18 months ago, it sparked a complete dismantling of England and a 4-0 defeat that many – including yours truly – will awaited a long and painful way home. . Joe Root endured another limp tour as captain and Australia, it was thought, would likely be nailed to end a 22-year drought when they visit back this summer.
In the meantime, they seem to have gotten stronger. Under the smiling, blue-eyed leadership of Pat Cummins, they've clearly deepened their bond as a playing unit, confident enough to relegate their head coach, Justin Langer, to Banquo's ghost role in the commentary box. A generational great like Steve Smith was augmented by the rise of Marnus Labuschagne and Travis Head, an intimidating attack from Scott Boland. World Test champion status rightly followed and that Ashes defense, Cummins admits, will define their legacy from now on.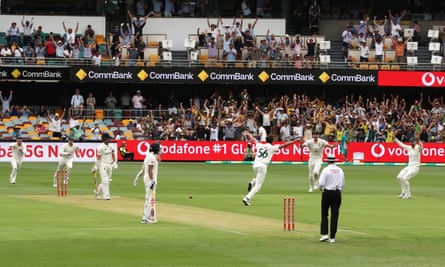 But England have changed dramatically, a liberated team in aggressive captain Ben Stokes and an ultra-optimistic Kiwi in head coach Brendon McCullum. He changed the needle and turned the task of picking favorites and underdogs into a mad dash. Much like the epiphany of the one-day team under Eoin Morgan, they have developed a revolutionary style of play and, while it has been a high-flying act at times, the result – 11 wins from 13 – means the two teams reach a pleasant peak.
People call him "Bazball" as a nod to McCullum's nickname, but most do so knowing that it massively understates Stokes' role. The all-rounder has publicly stated that it should just be 'English test cricket', believing he and McCullum have set a pattern that could outlast his own creaking body. In January, the pair even made a presentation to the counties, espousing the virtues of fast batting, wicket-only bowling, entertainment above all else, and disregard of the coin toss.
There are skeptics on both sides of the divide and elsewhere who await its failure, either sickened by the talk of saving Test cricket or imagining it as a flash in the pan and symptomatic of a wider decline. There are also those – including yours – who believe that, however enduring, it has been a joyful counterpoint to a global landscape transformed into a succession of soulless franchise leagues. And all told, it probably gave England their best shot at winning back the ballot box.
Stokes was in a fairly relaxed mood a day after the draw, wearing the bucket hat that sums up his team's club-side outlook and the knee cap that sums up concerns about his durability as a bowler. Once again, he stressed that the result didn't matter to him and, while the fans might disagree, on some level he was right: whatever the final score, these next six weeks are truly full of possibilities – a goldmine of stories just waiting to be mined and polished.