There is a strong whiff of uncertainty in the air surrounding the cryptocurrency markets after the SEC made a bold move to sue two of the world's largest cryptocurrency exchanges last week. The US financial regulator decided to sue Binance and Coinbase last week, sending markets plummeting.
The lawsuit once again instilled fear in the market, forcing BTC to hit May 2022 lows of around $25,400. Altcoins suffered a bigger drop, with many large-cap tokens setting new lows in 2023 as investors moved to hedge against further downside risk.
Despite the overwhelming bearish narrative, a technical pattern is holding firm and could keep BTC from sinking further over the next few weeks as long as it holds. In fact, an upside break of this pattern could help BTC rally towards 2023 highs around $31,000.
Read on to find out what levels need to be protected to keep BTC above water, and find two alternatives to watch while waiting for the market to rally.
BTC Price Analysis: Bitcoin Holding Inside a Bearish Wedge Pattern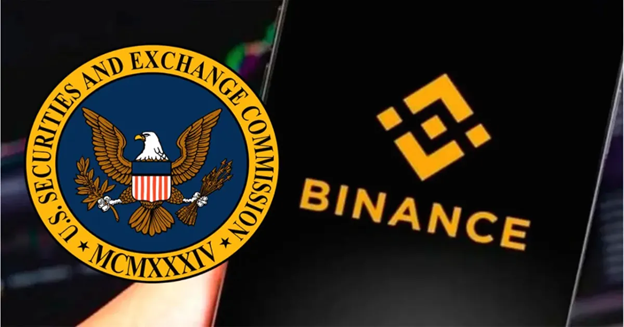 It looks like the BTC market is holding up well given the attack launched by the SEC last week. With lawsuits hanging over the industry's two largest exchanges, it's surprising to see that BTC is down just 6% in the past fortnight. In fact, it's up a mere 2% from last week.
BTC fell last week when the SEC announced it would sue Binance and Coinbase. It created a new two-month low, falling below the May 2023 support at $26,850. However, to the surprise of many, it quickly rebounded after finding support below the May 2022 lows – around $25,415.
Additionally, the support at $25,415 is further bolstered by the lower boundary of a bearish wedge pattern, which has been in play since mid-April and is helping to keep BTC from sliding even lower;
BTC might be able to break out of this SEC onslaught if buyers can hold within the confines of this wedge formation.
So what levels should we watch out for?
The first significant level is the May 2023 low at $25,850 – which held during the SEC attack. Below, the May 2022 lows at $25,415 will be important to defend, followed by the lower boundary of the bearish wedge.
If the bears break below the wedge, support can be found at $24,235 (December 2020 support), $23,500, $22,650 (December 2020 support), and $21,600.
On the other side, the first level of resistance to watch is $26,430. This is followed by the upper corner of the wedge at around $26,950. If the buyers push above the wedge, the market will be open for a move back towards $31,000. In this case, resistance before $30,000 is located at $27,750 (January 2021 low), $28,225, $28,650 (June 2021 low), and $29,350.
Are presales the game right now? Alternative pre-sale projects to watch during the market recovery
With the market in uncertain territory, experts agree that investors should diversify their risk by selling stable assets or out of the cryptocurrency market. However, some experts also suggest investing a small percentage of portfolios in pre-sale projects while the market attempts a recovery.
One of the main reasons they think presales are great options is because they are closed markets, preventing price drops and downside risk. Moreover, once the presale is completed, it offers investors the opportunity to make considerable gains if the presale is successful.
However, finding the perfect presale is difficult, with many scams and copycat schemes hovering in the industry. Luckily, we've done some research and found two of the most promising pre-sales projects to invest in today.
Wall Street Memes – The new Memecoin sensation in town with already a million subscribers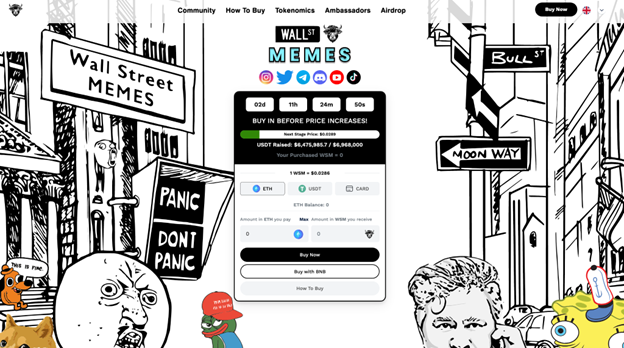 The first promising presale project to add to your watchlist is Wall Street Memes, the latest project from memecoin gaining traction in its presale. The WSM presale only started towards the end of May 2023, but has already managed to raise over $6.5 million in fundraising in a short time.
Investors are quickly flocking to this presale as it attracts the attention of notable industry figures. Furthermore, it has already managed to attract over a million subscribers on its social media platforms, which has experts believing that it is in a very good position to be listed on Tier 1 exchanges upon launch. – some even suggesting that Binance might hurry to list it to take advantage of the huge trading volume.
Wall Street Memes is the cryptographic representation of the internet's triumph over capitalism. He was born out of the GameStop fiasco in 2021 when the little guy challenged the heavyweights of Wall Street to a fight and took them out of business. Now, Wall Street Memes wants to symbolize this movement through the WSM token, offering individuals the opportunity to engage in speculation with a unique blend of humor and satire to go along with it.
The fact that Wall Street Memes has already raised over $6.5 million makes it one of the fastest growing presales of 2023. Investors continue to pile into the project, curious to see the prospects ahead. term and the returns it could generate. The fusion of internet culture, meme-based humor and decentralized finance makes it a very attractive investment in the crypto space.

Another interesting feature behind the project is that it is community driven. In fact, the team has not allocated any WSM tokens to itself, which demonstrates its long-term commitment to the project. The strong community is what gives memecoin projects strength, allowing its hype and FOMO to seep into the industry and send it soaring.
Wall Street Memes has amassed a huge following thanks to its previous successful project – Wall Street Bulls. This NFT collection sold out in 2021 in minutes, and the community is back to supporting Wall Street Memes in the same way.
Moreover, investors are rushing to position themselves as soon as possible after the heavyweight figurehead – Elon Musk – showed his interest in the project by interacting with social media channels on several occasions;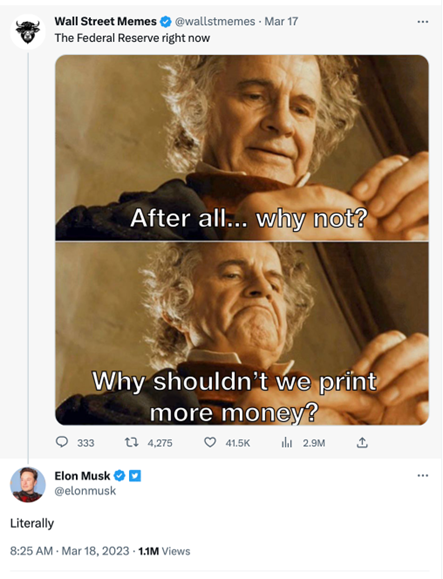 🤣

— Elon Musk (@elonmusk) April 22, 2023
The pre-sale for WSM is currently on fire, selling the token at a price of $0.0286 in the thirteenth leg. However, it uses an upward pricing strategy, so the price of WSM will rise to $0.0289 in the fourteenth step. Therefore, it is essential to invest as early as possible to take advantage of falling prices.
Buy WSM today.
yPredict – An AI-powered crypto trading research and analysis platform
Another project worth adding to your watchlist is yPredict, a platform that aims to make traders more profitable by providing AI-powered trade research and analytics to provide them with insights based on data and help them make better business decisions.
yPredict is attracting the attention of traders because its ecosystem is built by AI/ML experts, financial quants, and successful traders, who have come together to create cutting-edge research and analytics tools for the community. The project has already managed to raise $2.25 million in its pre-sale as traders rush to get into YPRED, its native token, as soon as possible.
The full suite of products offered by yPredict is comprehensive, and most of the advanced features require users to hold the YPRED token to access them, giving it valuable utility. In addition, the project also offers a subscription service for high performing price prediction models listed by financial experts and developers.
The first feature to mention is the market forecast platform, which allows users to check the latest asset price forecasts generated by in-house developed predictive models. This section is entirely open to the public, serving as an inbound traffic system for the yPredict ecosystem.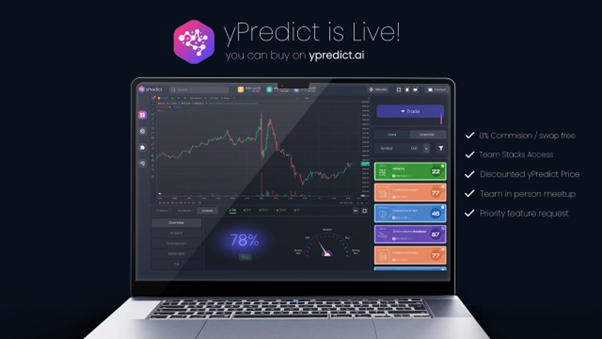 Another featured product is the yPredict Analytics platform, giving traders an edge in the financial markets. This product offers a new generation of fully AI-powered trading tools, modifying users to develop trends and pattern breaks before they happen. AI can also alert traders to potential setups based on sentiment, indicator, and trade analysis. This section requires users to hold YPRED tokens to access it.
The flagship feature of the whole project is the yPredict marketplace, which allows AI and ML developers to use their financial skills by listing their price prediction models as results as a service. The marketplace allows traders to subscribe to high-performing price prediction models monthly using YPRED tokens, giving it additional utility. Of the revenue generated, 70% is sent to the developer, with the remaining 30% being reinvested in the ecosystem.
Overall, yPredict develops an intuitive trading ecosystem that will definitely help traders become more profitable. The presale is in the ninth stage, selling the token for $0.09. The YPRED token is expected to be listed on the exchange for $0.12, which will provide notable returns for early investors.
Buy YPRED today