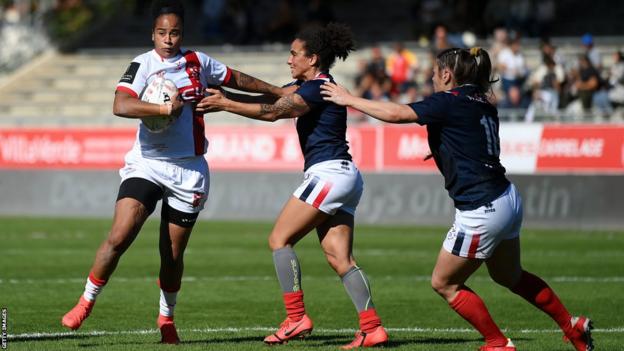 England striker Chantelle Crowl has said she was racially abused and physically attacked by staff at a Spanish hotel.
The St Helens player, 30, was on holiday in Lloret de Mar, near Barcelona, ​​to celebrate her first wedding anniversary with wife Annie.
Crowl said she was "pushed repeatedly" by a member of staff after racial slurs were slurred by hotel employees.
"I was so in shock I didn't know what to do or who to look for," she told BBC Sport.
The Mossos d'Esquadra – the Catalan regional police – said they had 'responded to Ms Crowl's request at the hotel and attended the scene of the incident, but none of the parties involved would report".
The Blue Sea Hotel Montevista Hawai said it is "aware of the incident and awaits full police and legal process, if necessary, while cooperating to clarify the facts."
They also added that a member of their staff had to be hospitalized following the incident on Saturday June 3.
Since returning to England, Crowl, who says she struggled "to eat for three days" due to bruises around her jaw, has been forced to miss Saints' Super League victory over local rivals Wigan and La Sunday's Challenge Cup quarter-final win over Warrington. due to concussion protocols.
Crowl, who played for England at the Women's Rugby Union World Cup in Australia in 2017, said things got out of hand after she went to reception to complain about racial slurs uttered by a lifeguard on the first day of a planned four-day break.
She added: "At the pool the lifeguard was making racist remarks and was really aggressive towards me and telling my wife she had to tell her friend to 'shut up' and this and that.
"I got a little pissed off and we went to file a complaint and the lady on the desk seemed friendly and was writing down the details. The manager came out from behind her desk and ripped it up and yelled 'get out' using the same racial insults.
"I started recording it on my phone and he ripped it out of my hand and grabbed my face where I have two claw marks."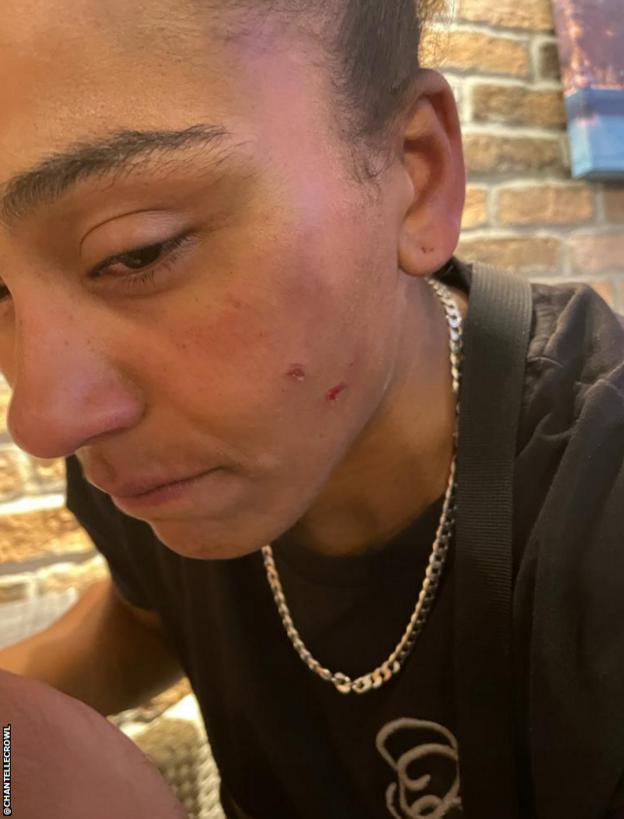 Crowl, who was an integral part of the Saints squad to win a Challenge Cup, League Leaders Trophy and Super League title in 2021, says things got worse as they tried to leave the hotel .
"We gathered all our luggage and everything together and on leaving the hotel the manager ended up with a handyman or a hotel electrician who is going to fix the problems.
"They followed us. I had a weird feeling but we were just trying to get out of there and when we got to the side of the road he [the handyman] just turned around and punched me in the face.
"He tried to take my suitcase and my wife had to grab hold of it. He broke the [metal] lock the suitcase, then hit me repeatedly in the face with it. He also hit me on the back as I tried to cover myself.
"Some of the Spaniards in the street…witnesses stood in front of him and shouted 'no, no' and he ran away. It's appalling to experience."
Crowl says when she went to Lloret de Mar police station she felt there was little meaningful help offered by the authorities.
"They didn't get me medically checked or anything like that. They were keen on me not pressing charges in any way scaring me that I couldn't go home.
"They brought in a translator and told me basically, you don't make any statement and he doesn't make any statement, or you have to stay longer and can't leave on your flight on Wednesday and I'd have to go back to Spain for court. .
"The police also said because the hotel manager indicated that he injured his arm or finger when he grabbed and threw my phone, that if we were to make a statement, he could make the same thing about it and we couldn't leave.
"It was a no-win situation. There was no help and we felt so alone."
Catalan regional police dismissed suggestions that they had offered Crowl no help.