Over the past week, Circle's USDC stablecoin has reduced its circulating supply by around $100 million. According to Circle, over the seven days ending last Sunday, USDC redemptions totaled $1.4 billion, surpassing the $1.3 billion issued in new coins.
Questions arise as to whether the world's second-largest stablecoin can maintain its position in light of these declines.
USDC Supply Diminishes as Reimbursement Exceeds Issuance
Although striking, the reduction in USDC circulation over the past week is not a unique event. In the previous month, $4.6 billion was redeemed and a lower amount of $3.6 billion in new stablecoins was issued.
This downward trend, which spans a year, has resulted in the removal of approximately $28 billion from USDC's market capitalization.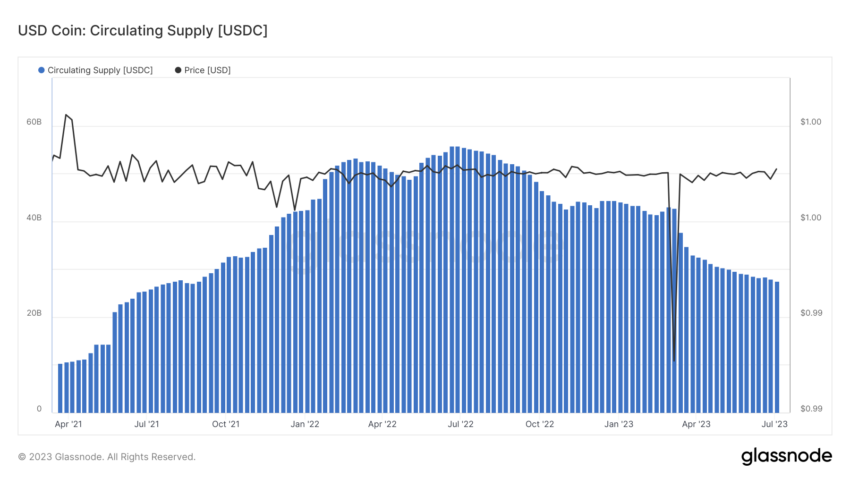 USDC supply saw a contraction of $10 billion in March alone. At that time, investor concerns over Circle's exposure to a Silicon Valley bank triggered a temporary disruption in the stablecoin's dollar peg.
Read more: What is a stablecoin and how does it work?
Even though the disruption was short-lived, as the USDC fell to a value of $0.97, the resulting market share loss persisted.
Circle's loss is a gain for Stablecoin Giant Tether
While USDC's supply has dwindled, Tether, Circle's main competitor, has made considerable progress over the past year, cementing its leadership position. The on-chain data reveals an increase of approximately $17.8 billion in USDT circulation over the past year, with most of that growth occurring in 2023.
Additionally, the same week the USDC supply dropped by $100 million, the total amount of USDT in circulation increased by $22 million.
Read more: 10 platforms that offer the best interest rate on stablecoins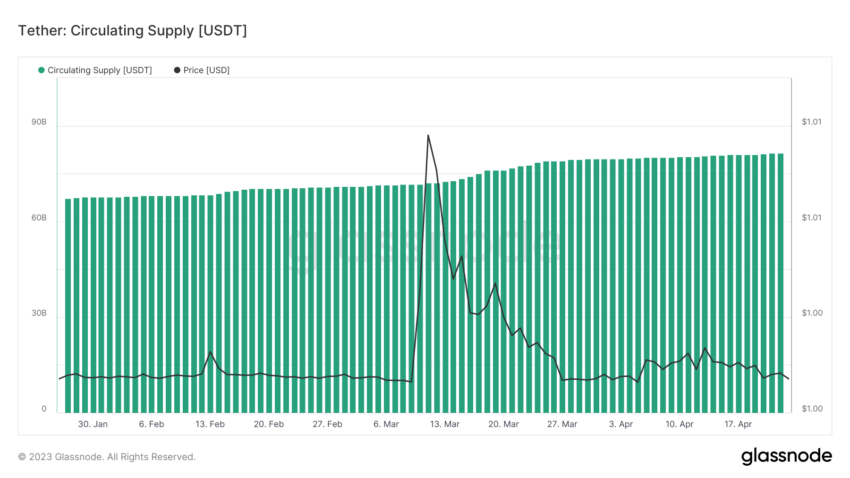 USDT dominance has grown significantly in recent months, currently standing at over 7%. Throughout the past year, Tether's supply as a percentage of total market capitalization has repeatedly exceeded 8%.
Conversely, USDC's market dominance fell below 5% in January and has not recovered since, currently hovering around 2.3%.
Growing competition from smaller stablecoin rivals
Despite the decline in USDC circulation, the virtual duopoly of Circle and Tether in the market remains unchallenged, constituting over 83% of all dollar-pegged stablecoins.
However, smaller competitors have not been deterred from playing for market share, and the landscape of stablecoin issuance continues to evolve. Last month, Dai overtook BUSD to become the third-largest stablecoin, while the supply of TrueUSD (TUSD) surpassed $3 billion.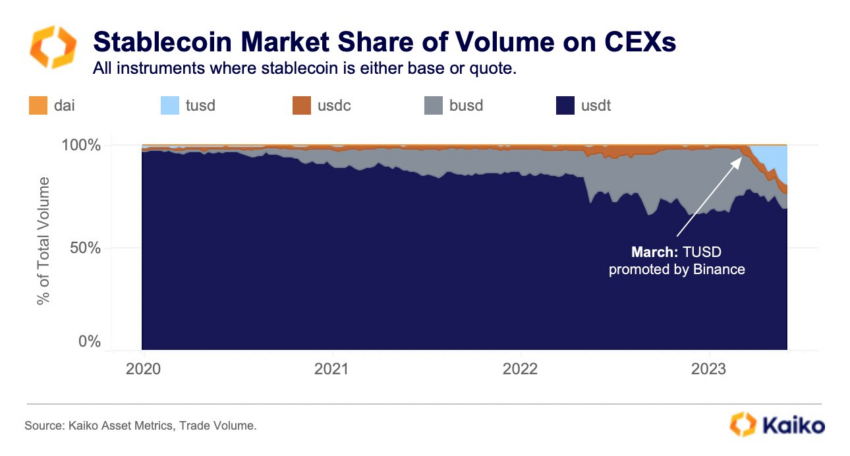 Tether and Circle's continued dominance of all blockchains is not guaranteed. For example, after the launch of the USDD stablecoin last year, TRON DAO prioritized supporting this decentralized stablecoin as part of its strategic vision for the network.
Read more: Stablecoin regulation around the world
The success of TRON could be critical because the blockchain is faster and cheaper to transact than Ethereum. The TRX network hosts more USDT than any other chain, with over $44 billion USDT in TRC20 tokens.
As recently as March, the total value of all stablecoins on TRON exceeded $40 billion for the first time.
Disclaimer
In accordance with the guidelines of the Trust Project, BeInCrypto is committed to providing impartial and transparent reports. This news article aims to provide accurate and timely information. However, readers are urged to independently fact-check and seek professional advice before making any decisions based on this content.