Five people have been arrested after environmental activists staged a day of resistance at the Ineos oil refinery near Falkirk.
Four people climbed onto the roof of the Ineos gas power station in Grangemouth and held up a banner on Saturday afternoon. Earlier, around 200 people marched towards the fence of the Ineos plant, which powers the oil refinery, from a climate camp about a mile away.
Police said they engaged with the group who had climbed onto the roof and they were safely evacuated, with no arrests being made. However, five people have been arrested in connection with alleged offenses including a breach of the peace.
Activists are holding a five-day climate camp, believed to be Scotland's biggest protest camp for a decade, at Kinneil Park in the nearby town of Bo'ness. Ineos said it was operating a "sustainable and safe business" and fulfilling its climate responsibilities.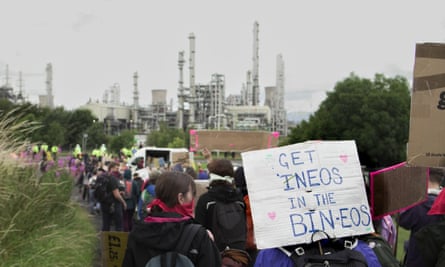 Jessica Gaitán Johannesson, from Climate Camp Scotland, said: "We are here because while Ineos makes hundreds of millions in profit every year, the people of Grangemouth are paying the price with their health; workers pay with their job security; and all of us with the collapse of our climate.
"We can build truly sustainable communities, but we must be led by those whose lives are most at risk, locally and globally.
"We don't accept sky-high bills, polluted air and a collapsing climate.
"We are failing this energy system, but Scotland and Grangemouth can move on to sustainable industry and greater equality. We are here to lead this change together.
Deputy Chief Constable Emma Bond said: "This afternoon a small group of protesters took to the roof of Ineos. Officers engaged with the group and they were then safely evacuated. No arrests have been made and investigations into the incident are ongoing.
"In total, following the protest in Grangemouth, five people were arrested for breaches of Section 12 of the Public Order Act, Breach of the Peace and Section 13 of the Act Criminal Procedure (Scotland) 1995.
"Decisions about how to control protests require us to balance complex and often competing rights and issues. We have a legal duty to protect the rights of people who wish to demonstrate or counter-protest peacefully.