Stormy seas are a common challenge for lifeboater Mark Taylor. As the skilled coxswain of the RNLI boat which services the coast around Tynemouth in the North East of England, he often battled dangerous swells to reach sailors in distress.
But this weekend Taylor, who has also become a sought-after performer, is getting used to the contrasting waters of the Thames. After working on his painting in his studio near his home in North Shields, the 43-year-old was selected for an exhibition in London and a new artist residency on the banks of the River Thames in Canary Wharf.
"I've been around water all my life," he told the Observer. "I've always been obsessed with boats and the moment when the bow of a lifeboat in the water hits the waves. But I also want to convey the story of any landscape I paint, be it Tynemouth Pier or the banks of the Thames.
His paintings, which include seascapes and portraits, are already popular and have been collected by celebrities such as singer Sam Fender, Andy Taylor of Duran Duran and acclaimed screenwriter Ian la Frenais. Prices for her new collection start at £9,500.
"It can be quite heavy at sea, so I paint every day to stay level," Taylor said. "My dad, Dallas Keith Taylor, was a lifeboat and pilot boat captain in nearby Blyth Harbor so he was out in all weathers as well. He was also a painter, with a commercial gallery. In art school I wanted to be more like a Mark Rothko or a Jackson Pollock, not like my dad, but after teaching art for a while I missed my own painting and found my own style now.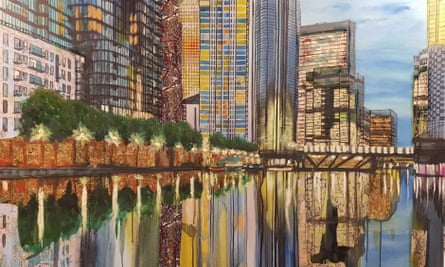 Taylor worked as a principal at Newcastle College, running classes and teaching, but quit a decade ago, not just to return to art but to care for his father, who suffered from motor neurone disease . "It's the best thing I've ever done. I took care of him in his last months and during that time he was holding my hand and correcting me while I was painting, showing me how to get a cloud effect, or something like that. I realized that I love to paint every day. Towards the end, my father told me that he couldn't have painted something that I had shown him. He said, "If you can keep painting like this, you'll never go hungry. It meant a lot.
His solo exhibition in the lobby of the Marriott Hotel was gifted to Taylor after he won a place in the Royal Society of Marine Artists' annual exhibition last summer and it's a position previously held by the artist Lincoln Townley. "I know Lincoln's residency here has absolutely taken his career to the next level," Taylor said, "so if my residency is half as successful, I'll be a very happy man."
Several of his new paintings of the docks and quays of east London feature collages made with old maps, alluding to the Isle of Dogs' past as a hub of international trade and, before that, as a estuary marsh.
"The new residence in London will give me a whole new audience. I want to paint all the glass reflections and lights of modern office buildings, but to show the history and importance of the tides.