Stuart Broad lamented a "soulless" pitch and his own struggles with the front line after Australian Usman Khawaja's fine century unbeaten left the first Ashes Test of the summer delicately poised.
Broad thought he had cleared the opening of 112 in the final session of day two only to find he was a hair's breadth out. With Khawaja reaching the close on 126 steps out – Australia 311 for five and trailing by 82 runs – the 36-year-old admitted his annoyance.
"It was a great ball and it's very hard to put it in the back of your mind," Broad said, looking back on a day that saw him claim two for 49 but also go off the ball six times. "At the end of the day, it's really frustrating.
"I probably played more [no balls] today than in a test match before and I think there are several reasons for that. The first day on the ground in the Ashes, emotions run high, you charge. The outfield was a bit spongy so you try to take advantage of the outfield. You are probably trying a little.
"It was a close call, but it's still a ball no. There's nothing you can do about it now and you just have to find your rhythm and keep hitting hard.
Broad had lit up the morning session, finding himself on a hat-trick in the seventh inning of the day when he knocked out David Warner and Marnus Labuschagne in the space of two balls. Steve Smith survived the hat-trick ball, with Broad straying on the leg as he tried to produce a magic delivery.
While that mark erupted with the crowd behind him gave Broad "feelings that will live with me forever," he was less than impressed with an Edgbaston surface that offered little lateral movement for the crimpers and didn't didn't see a single plug go to the cord slipping out of them for the first two days.
Speaking to BBC Sport, he added: "It's a very slow, low surface that saps energy off the ball. It's pretty characterless so far, pretty soulless, but you can only judge a surface towards the end of the game and see how it develops.
"It's definitely one of the slowest pitches I can remember bowling on in England. It's been hard work for the tailors and ultimately we're looking to entertain, to us amuse and blow the crowd away, so hopefully that's not a trend for the whole series.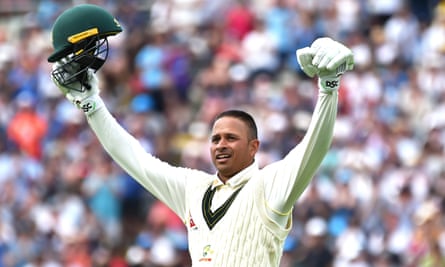 For Khawaja, who believed his Testing career was over when he was dropped at the 2019 Ashes, it was a golden day. Asked about the celebration after hitting triple figures for the first time in England – a bat throw and an outpouring of emotion – he said: "I don't know why the bat throw happened, but it happened. It was me.
I think it was a combination of three Ashes tours of England and being dropped in two of them.