JAne Birkin was the elegant, delicate and breathtakingly beautiful singer and film star with a mesmerizing, elusive and free-spirited screen presence. She was a performer with that interesting distinction of being Anglo-French, which kind of added to her untraceable quality: she was completely fluent in both languages, like other stars Charlotte Rampling, Kristin Scott Thomas and, indeed, Charlotte Gainsbourg, Birkin's daughter with Serge Gainsbourg.
It was her destiny to be considered a public figure and a national treasure in France, where she made many films, and to be placed on a strange pedestal as an icon or darling of the 60s. She had modeled in real life and had played them on screen, such as those in Blow-Up by Michelangelo Antonioni, where she made her first screen impression. And yet, that doesn't do justice to his distinctive screen work, his later character roles, and his formidable capacity for creative friendship and collaboration with filmmakers such as Agnès Varda and Jean-Luc Godard.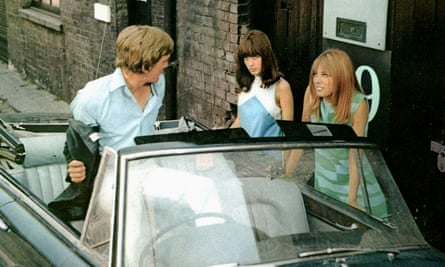 Birkin's sensational and notorious 1969 pop single with Serge, Je T'Aime… Moi Non Plus, with his raspy coital voice, actually interestingly turned into a provocative film of the same name, released in 1976 and written and directed by Gainsbourg. It's an essay on what might now be called queerness, with Birkin as boy Johnny, working in a cafe, who falls in love with a gay trucker, played by Warholian muse Joe Dallesandro, another performer who knew what it was like to be fetishized.
But Birkin really started out as the wide-eyed ingenue in the 1966 classic Blow-Up, who simpers at David Hemmings' haughty photographer and unsuccessfully attempts a modeling gig. She was – again – a model in Wonderwall, Joe Massot's 1968 non-narrative '60s groovefest, with its George Harrison soundtrack and a very Beatles name for Birkin's pert character, Penny Lane; she poses recklessly for her boyfriend while being spied on (and perverted) by her freaky neighbor, played by Jack MacGowran. She was also considered to have burned a hole in the cinema screen as the seductive, innocent and fatal teenager, Penelope, who makes a sexy entrance in Alain Delon's whimsical and disenchanted writer by the sparkling pool from the Côte d'Azur in La Piscine – a role replayed by Dakota Johnson in the remake/rework of Luca Guadagnino's A Bigger Splash.
In the 1970s, Birkin worked with Roger Vadim, that other great French actor and liberation impresario, who directed her in his Don Juan inverted in 1973; it's quirky, bizarre and a little absurd, with Brigitte Bardot as the woman who believes herself to be the reincarnation of the great seducer, and Birkin as one of the women he seduces. The same year, Birkin found himself in the cult giallo shocker Seven Deaths in the Cat's Eye, directed by the prolific pulp-maestro Antonio Margheriti; it takes place in a Scottish castle in Hammerish, in which many scary people reside and a gorilla is kept in a cage.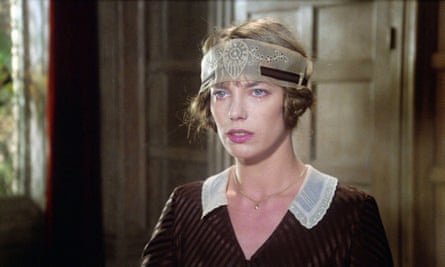 Over the next few years, Birkin was held in high esteem by producers and directors as a class actor, capable of playing finely judged small character roles, and his presence often helped cement funding for the film. international co-production. She made witty and poised contributions to two Agatha Christie films: Death on the Nile in 1978 and Evil Under the Sun in 1982, both starring Peter Ustinov as Poirot. In the late 90s, Birkin starred for James Ivory, playing the idiosyncratic Mrs. Fortescue in A Soldier's Daughter Never Cries, using Birkin's still very patrician English accent.
But it is for the great directors of French cinema that she has also done her most interesting work. In La Belle Noiseuse by Jacques Rivette (or The Beautiful Troublemaker), she plays the wife of the painter Frenhofer by Michel Piccoli, who had abandoned a painting he had started 10 years earlier when Birkin was his model – but left then inspired to complete it, with a new model, the seductive young Emmanuelle Béart. The film makes an insightful and poignant commentary on what Birkin has had to experience all too often: the extravagant condescension and fickle cynicism of being considered a "muse."
Godard then offered Birkin an appearance in his 1987 cine-triple sketch, Soigne Ta Droite, featuring, on the one hand, a goofy director (played by Godard himself) carrying the boxes of his film; second, the French pop group Les Rita Mitsouko recording a track; and, third, three actors interpreting a variation on the fable The Grasshopper and the Ant, with Birkin as a hedonistic young woman driving around with her lover in a convertible. Birkin spoke with humor and generosity about the bizarre experience of being led by Godard on his fiercest and toughest form.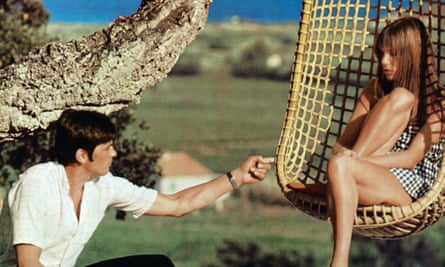 But the director who was most passionately attached to Birkin as a true screen presence, and who believed in her in a way that most of the industry didn't, had to be Agnès Varda, who built the one of his wittiest and most playful daydreams. Birkin: Jane B by Agnès V was a 1988 docudrama that was an "imaginary biopic". It is a surreal kaleidoscope of images and characters, imagined and curated with genuine love and reverence by Varda.
It may have been impossible to capture exactly what Jane Birkin was to the French and everyone else, but Varda came the closest. Birkin was a unique, seductive and energizing force in music and film.