Labor MP Jess Phillips is not racist, her high-profile colleague Bridget Phillipson has said after being accused of "extreme and spontaneous hostility" by high-profile manager Katharine Birbalsingh.
Ms Phillipson, Labor's shadow education secretary, told Sky News there is a formal process available to those who wish to raise concerns.
Speaking to Sky's Sophy Ridge On Sunday show, she was asked on charges of 'racist behavior and intimidation' by Ms Phillips, made by former chair of the Social Mobility Commission Birbalsingh – once dubbed 'Britain's strictest manager'.
She accused the MP for Birmingham Yardley of seeking to "stir up a social media crowd" against her on Twitter.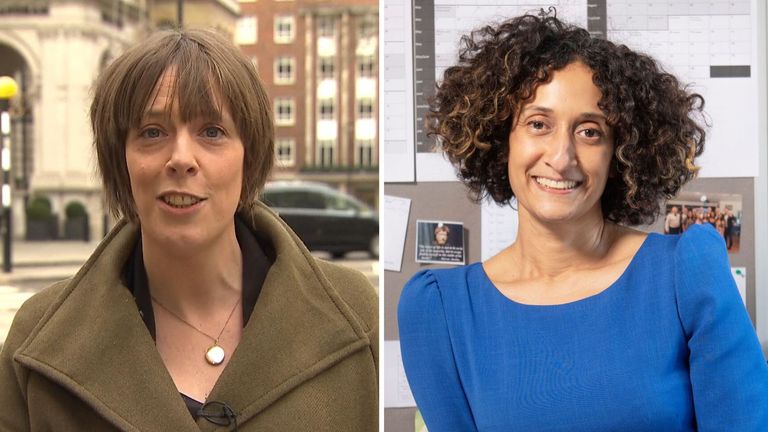 "My reaction to anyone who feels unhappy with the conduct of a Labor MP is that they should complain through our processes and then the matter can be reviewed," Ms Phillipson said.
"And as MPs we are also subject to a code of conduct…and there are processes in place for people to be unhappy with the behavior of an MP, to report it in that way I would suggest that to anyone who is displeased with the conduct of a Member."
Asked if she thought Ms Phillips was racist, she said: "No, I don't think so. But I think it's important that if people have concerns, if they're not satisfied with the conduct of an MP, it can be investigated as part of this process."
The row came after Ms Birbalsingh, headteacher at Michaela Community School in Brent, said she inadvertently tweeted a picture of Tina Turner alongside her abusive former husband Ike Turner amid tributes to the late star.
Ms Phillips later tweeted, "Hang on!", adding: "Stay with me! Domestic abuse is never okay and we will defeat those who maintain the status quo…"
Ms Birbalsingh, who describes herself as having 'small c conservative values', wrote a four-page open letter to Labor leader Sir Keir Starmer featuring a series of tweets from Ms Phillips.
She wrote: "She inspired a vicious mob attack on me on Twitter on the evening of May 24, 2023 and questioned my school's safeguard policies in a deliberate attempt to challenge my competence as a leader. establishment."
She also said she would report Ms Phillips to the Parliamentary Commissioner for Standards.
"His behavior is a clear example of 'unconscious bias'"
Ms Birbalsingh wrote: 'Ms Phillips does not know me. She has never met me. She has never visited my school. The school is not in her constituency. has previously publicly accused any other principal in This Way.
"I think Ms. Phillips' extreme and spontaneous hostility towards me is motivated by my race. I don't mean by that that she hates all people of color.
"Her behavior is a clear example of 'unconscious bias.' I mean she hates me, even though she doesn't know me, because she subscribes to the idea that black and Asian individuals in public life have a duty to express opinions that correspond to a left-wing view of the world, or they are worthy of its contempt."
Learn more:
What can be done to end violence against women and girls?
Britain's toughest manager says Boris Johnson is not a role model for children
Ms Phillips, the shadow minister for domestic violence and safeguarding, is one of the most prominent Labor MPs and a regular user of Twitter.
Ms Birbalsingh, who recently spoke at the National Conservatism Conference in London, said she was a 'floating voter' and was not a Conservative party member.
But she claimed her attendance at the right-wing event helped explain Ms Phillips' anger towards her.
She said Ms Phillips had 'discredited' Labor and called on Sir Keir to act.
"I would like to be assured that, regardless of the opinions of any member of your team or your Shadow party, baseless and baseless abuse will not be directed against me and my school. This is completely unacceptable. ", she told the Labor leader.
Sky News has contacted Ms Phillips for her response.