Ohen Katie Zelem was left out of England's final camp before Sarina Wiegman named her World Cup squad, she cried over her chance to make the trip to Australia. Four months later, the Manchester United midfielder picked up her first start for the Lionesses at the World Cup and is now an integral part of the Lionesses' succession plan following Keira Walsh's injury. She will likely play an important role in England's Round of 16 tie with Nigeria on Monday.
"When I found out I hadn't been chosen for the April camp, I thought my World Cup dream was over," she said. "It was one of the hardest times to live, especially after the Euros last year when I was not selected.
"For a few days I really thought I had worked so hard all season and it's just not supposed to be. We had some very important games at Manchester United, we fought for the league title and the FA Cup final, and that helped me focus on being the best I could be for the club and everything I did was enough.
The 27-year-old discovered she was in the starting XI the day before England's 6-1 loss to China, with Laura Coombs replacing Walsh and Stanway moving deeper to make up for the 1-0 win against Denmark. "It's been quite routine since Sarina arrived. We have time to prepare whether we're in the starting XI or not, so it's consistent.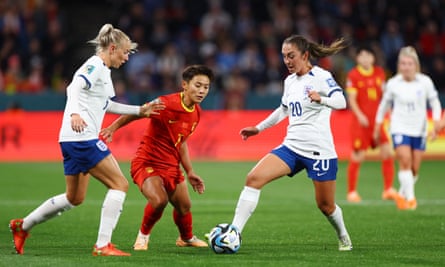 "As soon as I knew I was starting, I was in heaven. Before the match, it was a mixture of excitement and nervousness. When I arrived on the pitch, I couldn't wait to go.
"We forget that the reason we are here is that we play well for our club every week. That's the mindset I tried to have.
"I was so excited after six goals and some incredible ones too. Really proud for me and my family that we had this moment.
Walsh is virtually irreplaceable but Zelem is a different type of defensive midfielder; being herself and not trying to trade like for like is important. "We all have different strengths and I just tried to do what I do every week for Manchester United," she said. "I wanted to contribute as much as possible to the team on and off the ball."
Zelem adds that "you never want to play because of someone else's misfortune" but it's important to remember that the door can open at any time.
"That's the beauty and the madness of football, that things change so fast," she said. "You can never predict what will happen. And for me it's always about staying ready, like all the other girls that's been waiting [their chance] and everyone trains 100% every day.
Zelem played alongside Stanway in a deeper role amidst a 3-5-2 against China. "The score showed it was quite successful," she says.