Never Have I Ever season 4 spoilers below
Rainbow Crew is an ongoing interview series that celebrates the best LGBTQ+ representation on screen. Each episode features talent working on both sides of the camera, including queer creatives and community allies.
Then we talk to I have never star Lee Rodriguez.
"One day you will walk again and if not, I will rebuild your legs."
These were the first words Lee Rodriguez spoke as she I have never character Fabiola Torres and they pretty much sum up her entire personality.
Compassionate and good-hearted with loads of quirkiness and wickedly intelligent. Without forgetting serious and loyal.
These are traits that only grew with the robotics enthusiast and STEM enthusiast throughout the series arc. Four seasons that saw her go from someone hopelessly uncomfortable in her own skin to someone whose (confidently spoken) last words on the show were "me and Eve had a makeup session on your bed".
It may not seem like a lot, but her homosexuality was a part of herself that Fabiola struggled to accept and when she did, she then struggled to find her place within the queer community, which Lee can also relate to.
In an exclusive interview with digital spy Lee talks about Fabiola I have never season four's journey and why there's beauty in her character's idiosyncrasy, something worth celebrating, especially in queer portrayal.
THE I have never star also explains why queer representation isn't always about relationships, situations and love before leaving us with hopes of seeing Fabiola Torres again.
Over the four seasons, your character, Fabiola, has really grown in so many ways. What are you most proud of in this growth?
I'm proud that she really was able to come into herself. You see her being able to exist as a queer person, to thrive, and to have all these different college choices. She is really smart.
Fabiola started out having trouble recognizing her own homosexuality and feeling comfortable with herself. What has been the most rewarding part of this particular aspect of his journey?
I mean, it's relatable, and a lot of queer people can relate to that. Just being able to see a character go through this is really awesome to see, because it makes others feel seen and represented in a very unique and special way.
Black queerness is still relatively underrepresented in mainstream media. Fabiola is of Black Latina descent. Were there any particular storylines that you thought were really important to explore from this black queer identity?
There are so many stories that I really love, but I think the one that I love, the one that feels most relevant to me, was the story in season 2, where she felt like she couldn't really fit into queer culture.
She wasn't into certain shows, and just certain things, that I personally related to because I'm not really into and I know, you know, everything that's going on in queer pop culture.
I'm really in my world and I have my own tastes that sometimes have nothing to do with queer culture.
I think I relate to that, because she's a robotics nerd. She doesn't dress a certain way. She doesn't know some things. She's just kind of in her own world, doing her own thing, and it's like: it just goes to show that you don't have to know specific things to be in the club. Be part of the community.
You can exist as you want to exist, and if it's different, that doesn't make you a less valid person.
By season four, Fabiola finally comes to a point where she feels comfortable with her own homosexuality, but you don't see her enjoying much romance like you do with Eleanor and Devi. Why is that?
I think maybe it's because, over the last three seasons, it's been a little more focused on her romantic life and so I don't think we ever see her, you know, in her element.
This season, the writers and I really wanted to capture his existence, not his whole personality about being queer or being, you know, in a romantic relationship. It just shows that it's one side of her, and there are so many other sides of her that are just as important.
I like his robotics. I like that she's trying to get into college and also, you know, trying to be a good friend.
This season we really wanted to capture her more in her element and more comfortable in her own skin, and what that looks like because I feel like we should see that more – just that queer people can exist.
One of my favorite things about Fabiola is that she is such a good role model. We love that she is an unwavering STEM enthusiast. How did fans kind of react to that side of her? Do you think this has had an impact on how young girls view women in science?
Totally. It's a male-dominated field, and I think it allows other women who are interested in STEM or women who already have a career in STEM, to feel represented and to show that, you know, women can also be in STEM, and are just as good at it, and are just as smart.
So I think it was cool that we could represent a group of people that way.
Have you had any really touching comments from fans about your character? Especially towards the end of your journey as Fabiola.
It always means a lot to me when people say they felt represented by Fabiola. They just say they can relate to her.
A fan interaction I had – it was at an event – ​​and this young lady came up to me, and she was very emotional.
She just thanked me for being an awkward teenager in high school, because that's how she felt. She felt like a totally clumsy teenager.
That, in itself, is also something to feel represented for. So it's something that touched me a lot, because you never know. You're just looking the way you are, and having certain mannerisms, and having certain interests. You can represent so many different groups of people. So I thought that was really cool.
What was the last scene you shot and how did you feel shooting it?
The last scene I shot was also Ramona Young, who plays Eleanor – that was her last scene as well. This was the scene that took place during the wedding in the last episode.
It was Fabiola, Eleanor and Devi, and they all had a last hurrah in Devi's room.
It was like a very sentimental and heartwarming scene. It was my last scene.
One can imagine that there were a lot of tears.
Oh, absolutely.
Did you take any souvenirs when you left season 4? Something that means something to Fabiola or yourself?
Totally. I took this little trophy. It was a first place trophy that had Fabiola's name on it, after winning a science fair or something. So I totally had to take that.
Ever since John McEnroe's "Signing off…for now" comment at the end of season four, there have been rumors of a spinoff. We know that I have never college years aren't on the table, but if there were to be a spin-off, would you be willing to make an appearance?
Of course. Of course, I would love to.
Finally, what's next for you now?
Well, I'm always… you know, I'm always going to act, as far as acting goes. I would like to make a film but I also make music.
This is my next attempt. I just released a single. It's called 'After Thought' – on Spotify. It came out on June 1, so I'm going to be releasing a lot more music this year, and I'm really excited about it.
We look forward to listening. We didn't know you made music.
Yeah. Check me out! I go by the artist name LaRhonza, so you can find me under LaRhonza.
*Opens spotify immediately without hesitation.*
I have never seasons 1-4 are available to watch on Netflix.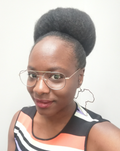 TV writer, digital spy Janet completed her MA in Magazine Journalism in 2013 and has continued to grow professionally within the industry ever since. For six years, she honed her analytical editing skills at the Good Housekeeping Institute, eventually becoming acting head of food testing. She also worked freelance in film and television journalism from 2013 to 2020, when she interviewed A-list stars such as Samuel L Jackson, Colin Firth and Scarlett Johansson. In 2021, she joined Digital Spy as a TV writer where she can dig deeper into what she loves, watching copious amounts of TV, all in the name of work. Since taking on the role, she has conducted red carpet interviews with the Bridgerton cast, covered the BAFTAs and been interviewed by BBC Radio and London Live. In her spare time, she also moonlights as a published author, the book Gothic Angel.