It's just after 8am on Monday morning and the race for a GP appointment is well on.
The two receptionists at Fender Way Medical Center are busy screening calls.
Dr. Laxman Ariaraj is in his consulting room watching the appointments fill up on his computer screen.
He triages the patients to make sure they have all received the correct answer.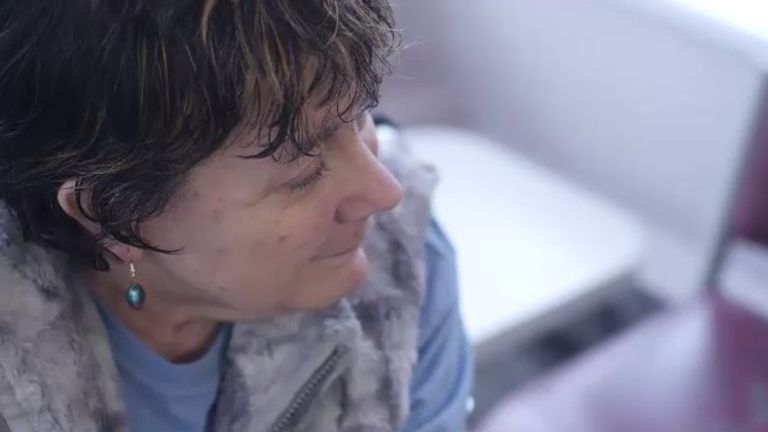 Among the patients on his urgent list who called this morning is Joanne Martin. She has Parkinson's disease and has developed a urinary tract infection.
Dr. Ariaraj knows Jo's medical history well and phones her to find out more.
"I'm so tired," Jo told the doctor. "As soon as I finish the phone call with you, I'll be asleep."
Jo explains that she has been suffering from extreme fatigue for a few days. The infection also leads to a high temperature.
The doctor explains to her that he wants her to undergo treatment immediately.
"I'm going to start an antibiotic today, if we can get this sample out," he said.
"If we find that the antibiotic was not going to work for your infection, we can quickly change it to a more appropriate one."
Dr. Ariaraj is concerned enough to ask Jo, who is in a wheelchair, to come to the clinic in person to do blood and urine tests so he can see her.
"We should start dealing with that pretty soon, I think," he told her.
Dr Ariaraj's clinic is in Birkenhead on the Wirralone of the most disadvantaged communities in the country.
Women here have the sixth lowest life expectancy at just over 74. And for men it's worse, with the third lowest life expectancy at around 67.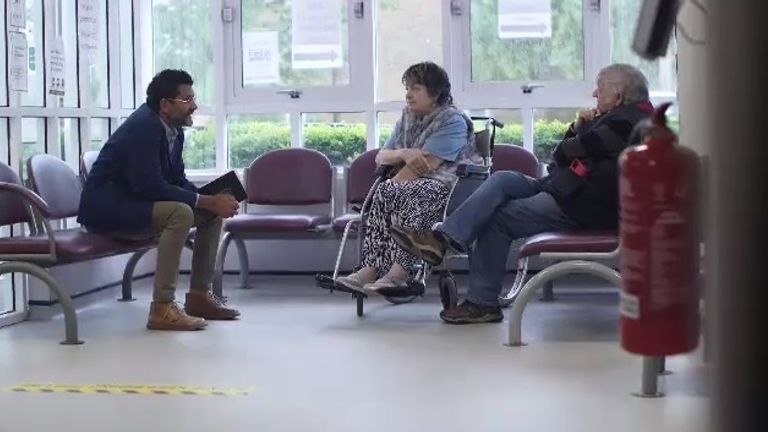 Jo moved to the Wirral over 40 years ago. She was forced to quit her job as a teacher because of her health. She says the inequalities in the area were driven by housing needs.
"If they live in a nice house and they can afford a nice house, then people are much happier and they will be healthier," she says.
"So I think it all depends on the accommodation ultimately and the facilities."
Jo's husband, Blake, describes himself as "Wirral born and bred".
He left the area to join the Royal Navy but returned when he retired. He says the former shipbuilding community has been hit hard due to unemployment.
This, he says, and the need for better education underlie many of the problems here.
"I think the biggest problem is money, really. I think there needs to be more jobs from the point of view of getting people into work," he explains.
Health inequalities are greater in the North West than anywhere else in England. And the Wirral is one of the most divided areas in the region.
Learn more:
The King and Queen celebrate the 75th anniversary of the NHS
One in five doctors with long COVID forced to stop working
Ex-NHS nurse: I will never return to the UK
Populations separated by just a few kilometers along either side of the M53 have very different health outcomes.
Traveling north along the highway, those living on the right can expect to die younger than those living on the left.
Dr. Ariaraj wants more funds diverted to neighborhoods like his and, most importantly, he wants more time to spend with each patient.
"You can probably run a cricket ball from significant wealth to abject poverty in this area.
"We need more resources in our health system, and I would advocate that if and when those resources arrive, we prioritize areas like these where I think additional resources can make the most difference. ", he says.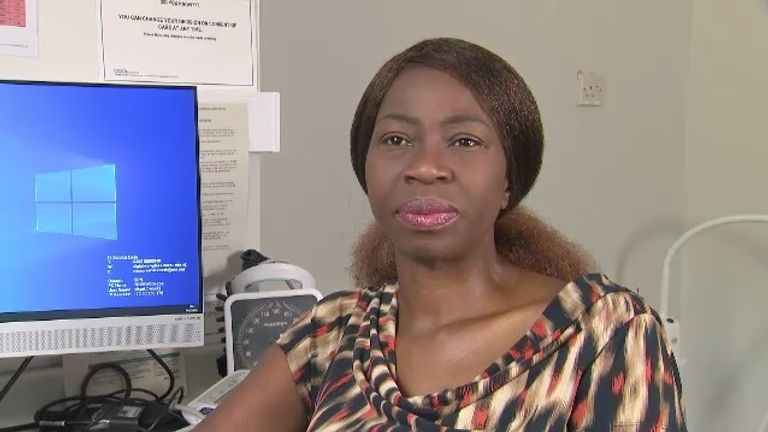 Dr. Bola Owolabi is Director of Health Inequalities at NHS England. She says a number of initiatives, including Core20PLUS5, have been introduced to address health inequalities.
"The core 20 are the 20% of the most socially disadvantaged communities across the country. And the most are other communities that could be inadvertently left behind unless we intend to reach them," says Dr. Bola.
"These would therefore include people who are homeless or rough sleepers from our ethnic minority communities, people from our migrant communities, for example, Roma gypsy traveler communities."
Click to subscribe to Sky News Daily wherever you get your podcasts
She adds: "The NHS has worked incredibly hard over the past 75 years to ensure that no matter where people live, no matter where they come from, no matter what their socio-economic status, they have equitable access to high-quality health care."
Since Dr Ariaraj graduated as a general practitioner 20 years ago, the needs of his patients have changed.
There is an increasingly aging population with complex health issues. That and growing health inequalities will present the NHS with significant challenges as it faces its next 75 years.
Watch Sky News' NHS special with Mark Austin at 6pm on July 5.