You could say that, at least in the realm of pop music, the year 1989 belonged to Milli Vanilli.
The Franco-German pop duo, formed barely a year earlier by German producer Frank Farian, had already established themselves on the European charts with their first single Girl You Know It's True. The song hit US airwaves in March with stratospheric impact. Their debut album sold over 8 million copies and spawned three No. 1 singles; it remained in the top 10 for the rest of the year. The young, mostly female fans screamed with the tight choreography of Rob Pilatus and Fabrice Morvan and the blatant eye candy – long braided hair extensions that swung freely when they danced, looks that come here, abs chiseled, spandex shoulder pads and shorts, incredible energy and incredibly 80s dance moves.
"It was literally anonymity for these guys…then the superstars – the biggest pop duo in the world," said Luke Korem, the director of a new documentary about the duo which premiered this week. at the Tribeca Film Festival.
It was all eclipsed, then swept into the dustbin of pop history, by disgrace. By the time Milli Vanilli accepted the Grammy Award for Best New Artist in February 1990, many in the music industry suspected something was afoot. In November, Farian revealed at a press conference that Pilatus and Morvan had never sung on any of their recordings and synced their performances. The ruse torpedoed the act – radio stations stopped playing their songs, fans destroyed their records and the Grammys canceled their award for the only time in history. Pilatus and Moran attempted to rename themselves "Rob and Fab" with their own vocals, but only sold thousands of records. Milli Vanilli has become cultural shorthand for hubris (Pilatus once favorably compared the duo to Elvis and the Beatles) and ignominious deceit.
And that was it. Milli Vanilli's popular narrative – that Rob and Fab lied about their talents and misled their fans and should face the consequences – was swift, vindictive and enduring. And, as the documentary argues, incomplete and misdirected on the two public sides of a much larger operation. "People thought they knew the story, but they didn't," Morvan told the Guardian on the eve of the documentary's premiere.
Milli Vanilli, the documentary, offers a rapid account of a dramatic rise and fall, mostly in the words of Morvan, a musician and artist who now lives with his wife and four children in Amsterdam. (Pilatus fell into drug addiction in the years following the scandal and died of a suspected overdose in 1998, a day after leaving a rehab clinic, aged 32; an interview taped about 45 days before his death provides most of his story in his own words.) Raised in Paris to Guadeloupean parents, Morvan decamped to Munich at age 18, where he met Pilatus, a breakdancer, at a party. They were, as Morvan recalled, the only dark-skinned people they knew in Munich. They were great dancers and enthusiastic entertainers, who could barely make ends meet. And they both wanted to be stars.
A brief stint as backup dancers and a shaky demo led to an encounter with Farian, a decorated producer who scored several worldwide hits in the 1970s with Eurodisco band Boney M. (Farian was not in the film .) Like Milli Vanilli after them, Boney M were a distinctly Farian, smoke-and-mirrors construct: frontman Bobby Farrell, a black dancer from Aruba, lip-synced to other vocals, often Farian, though the arrangement met with little backlash when it went public in 1978.
Farian signed Morvan and Pilatus to a multi-album deal when they were 21 and 24 respectively. According to Morvan, the two had no understanding of the terms, let alone the possibility of lip-syncing. They needed the money and Farian was a hitmaker. "We were so naive when the contract was put on the table," he said. "It was never really implied, like, hey, go read this. There was no management, there was no protection. There were gold records on the wall, so that was enough.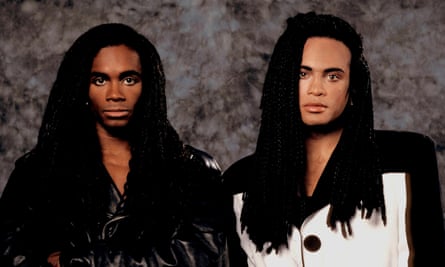 Months later, Farian informed Morvan and Pilatus that they would not sing on their debut single as Milli Vanilli. Morvan says they were tricked into paying off their recording contract; Ingrid Segieth, Farian's former secretary and lover, says they easily hit it off. Either way, the track was a hit – fame and fortune at an almost viral rate – and Milli Vanilli "embraced the lie", as Morvan recalls in the film.
Several other figures in and around Milli Vanilli's business attest to Farian's scheme and music industry involvement – if not in the conspiracy, then at least in open secrecy once the profits reaped. There are Brad Howell and Charles Shaw, the black American singers. considered less telegenic by Farian, who provided the real voice on Milli Vanilli records and became frustrated with the lack of credit. "Downtown" Julie Brown, who hosted the duo on their US MTV Arena tour, recalls the night in July 1989 when a faulty vocal track nearly derailed Milli Vanilli at the height of their fame. Former executives of Arista, the record company that handled the duo's business in the United States, say everyone down to the company's chairman, Clive Davis, knew about the lip-synch months before. the Grammys. (Davis does not appear in the film; in footage from 2017, he denied any knowledge of lip-syncing.)
"I found it surprising when people were still running the other way," Korem said when I brought up Davis' denial. After 30 years, he said, he still encountered some reluctance to reveal who knew what and when. "I think the reason they are doing this is because of what happened to Rob. I think there's a lot of guilt and shame, and it's very tragic.
Pilatus' death looms over the second half of the film, as the tide quickly turned on Milli Vanilli from phenom to punchline. In a remarkable scene, the couple hold a press conference to address the scandal. Morvan sits almost silent, shock blooming on his face in real time. Pilatus trains, both apologizing and justifying their work with Farian to escape poverty and achieve stardom. "Have you ever lived in the projects?" he asks a righteous white reporter indignantly at the lie. "We had no money. We wanted to be stars. The journalist almost implores: "Your talent would get you out!" Someone offscreen remarks, "Spoken like a real white boy."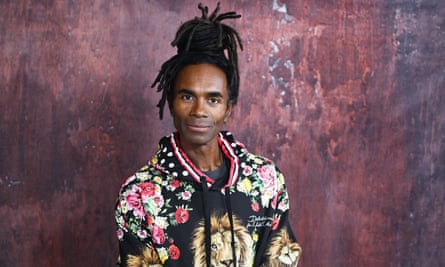 As music critic Hanif Abdurraqib puts it in the film, the unsaid in much of the vitriol — there have been more than a dozen class-action lawsuits filed by disgruntled fans accusing the duo of fraud and racketeering — was an undercurrent of racism: "Milli Vanilli, to be clear, had a predominantly white audience. So part of the betrayal that was felt was, 'I can't believe I listened to these black guys sing these songs and it really wasn't them.'
The problem, as the film frames it, was not that Morvan and Pilatus were guilty, but that they alone took on the whole scandal. "Do they deserve to be called to a certain level? Of course. But what about everyone else? Korem said. Farian, Arista, their record executives and management emerged largely unscathed.
"It's mind-boggling to think that the media came after us, and never attacked the people who held the reins," Morvan said. "It's almost like they're saying, 'Hey look, we can't touch the man in black, so that energy should go to [Rob and Fab].'"
Three decades later, Morvan sees the Milli Vanilli saga as a reintegrated chapter, and the film as "a story of hope. You can fall, but you can also get up, reinvent yourself and leave. The film ends with a solo rendition of the band's biggest hit, Blame It on the Rain – with Morvan singing in his own voice, at his own gig, to a crowd happy to hear the music they once loved.