Phoebe Graham says Australia's 'great' cricket and solid structure have helped England develop – and believes Heather Knight's side are now well placed to reunite with the Ashes…
It's not just the Ashes. This is England's chance to beat one of the most formidable sports teams the world has ever seen.
Australia hold the Ashes, are the reigning world champions in 50+ cricket and T20 cricket, and also won the Commonwealth Games last year. They dominated world cricket for a number of years and paved the way for women's cricket around the world.
Alyssa Healy has said she will "make her own turn" at the Australian side after captaining Meg Lanning's absence.

It is a country of firsts. First women's professional contracts, first regional domestic structure, first women's franchise tournament. It was their advances that professionalized women's cricket in England. For that, we thank them.
The professionalization of regional cricket in England has catapulted our game beyond all expectations. A new domestic structure was created, The Hundred was launched and, above all, there was a surge of new English talent.
England has a new foundation, a new regime and a thirst to raise the ashes in its own territory.
'Lewis is clear on how he wants England to play'
Head coach Jon Lewis, who was appointed in November, has breathed new life into this England team.
England captain Heather Knight and teammate Sophia Dunkley say their team have the opportunity to do 'something special' during Ashes

There has been a big change in leadership style. He encourages freedom, courage and clarity and is confident in breakthrough talent, choosing two uncapped players, in Lauren Filer and Dani Gibson, in the Test squad.
How are we going to take 20 wickets? Rhythm and swing. With that, we welcome Lauren. How will we score points? Courage and power. Welcome to Dani, Western Storm's second top scorer in the Charlotte Edwards Cup and their top wicket taker.
Lewis is clear in his direction and how he wants this England team to play. He chose a tailor-dominated team with only one hardcore spinner Sophie Eccelstone. If you're only going to get one, it might as well be the best in the world!
England have support rotation options in Emma Lamb, Alice Capsey and Heather Knight, so England have bowlers to handle the loads and despite the recent retirements of Katherine Sciver-Brunt and Anya Shrubsole, the England's seam attack seems a dominant force.
Kate Cross says she had doubts whether she would be ready to play in the Ashes following parasitic infection

Kate Cross is economical and can swing the ball inside and out; it provides excellent leadership to young English fashion designers Lauren Bell, Issy Wong and Filer.
This is the first time the test match has lasted five days, so it is important for the bowlers to threaten and create chances.
I wouldn't be surprised if England played three or four setters with a big discussion around Gibson joining Nat Sciver Brunt as a true all-rounder in the team.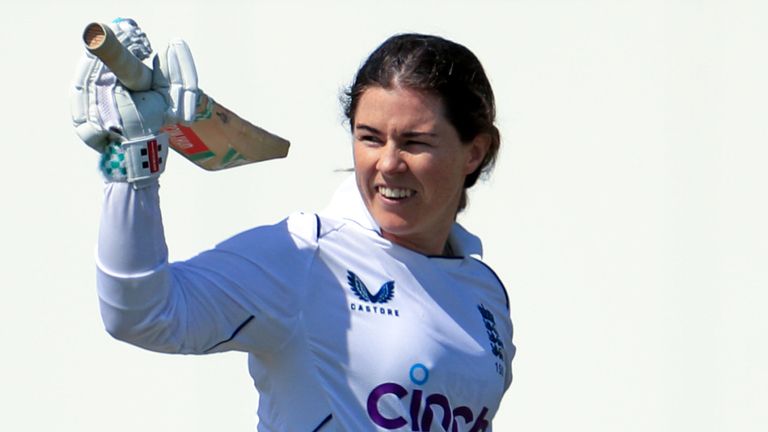 Beaumont silenced all doubters with the double cent
The batting department flourished, with England scoring at a brisk pace in the friendly, against Australia posting 650 from 118.2 overs. Tammy Beaumont had been quiet and her opening spot up for debate, but she proved all the critics wrong by scoring a double ton in the warm-up match against Australia A.
We also saw Emma Lamb score a double ton in an internal warm-up match, with a hundred in each session. That's LewBall!
It seems obvious to go with this opening pair. With Beaumont and Lamb shooting, and IPL star Sciver-Brunt and powerhouse Sophia Dunkley in the top five, it's one hell of a batting team to take on the Australians.
Beaumont says England will take aggressive approach during Ashes

Over 11,000 tickets have been sold for the first day of play at Trent Bridge, showing there is a thirst and excitement for England to return to the Ashes.
England are chasing the best team in the world but they are ready. Thank you, Australia, for being so good. You gave us the freedom to play without losing anything.
My England XI for the Ashes Test: Emma Lamb, Tammy Beaumont, Sophia Dunkley, Nat Sciver Brunt, Heather Knight (captain), Amy Jones (wicket keeper), Sophie Eccletone, Dani Gibson, Issy Wong, Kate Cross, Lauren Bell
Watch the multi-format Women's Ashes live on Sky Sports Cricket of Thursday. Coverage of the Test match, at Trent Bridge, begins at 10 a.m. before the first ball at 11 a.m.