When the parliamentary offices building, Portcullis House, was completed in August 2000 at a cost of £235 million, it was expected to last over 120 years with maintenance costs reduced thanks to the quality of manufacture and high-end materials.
Its glass roof has been anything but maintenance-free, with officials reporting falling bolts, cracks and broken glass. In the latest incident last month, water poured into the atrium after a "huge bang".
While officials have confirmed a report of a series of roof faults is due within weeks, the building's outdated electrical and mechanical systems are to be replaced at a cost of up to £143million, with the prospect of another expensive bill for roof repairs.
Sir Charles Walker of the House of Commons Committee, which oversees the Parliamentary Estate, said in a parliamentary response last month that since 2019 there had been 12 roof leaks and three breakages. The report will look at options to remedy the flaws in the roof and is due this month.
Since last month, there has been scaffolding in the building, which stands opposite the Palace of Westminster and above a tube station, after witnesses reported one of the windows cracking loudly , followed by a deluge of water.
Officials say the building, which was designed by the late architect Sir Michael Hopkins and Arup engineers, remains safe to visit and work in.
Sir Vince Cable, the former business secretary who had an MP's office at Portcullis House for nearly two decades, said the roof's ambitious design meant it was more difficult to repair.
"It's a beautiful design, but because of the way it's structured, it's incredibly difficult to fix," he said. "Any small leak causes flooding below. Someone must be held responsible for the initial commissioning and monitoring of the building. »
Cable recalled the "primitive plumbing" of the building. "Toilets were often blocked and closed for maintenance," he said.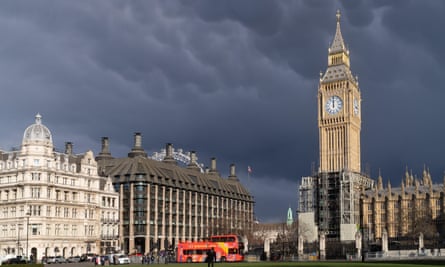 Notwithstanding the problems at Portcullis House, MPs have yet to decide on the long-term plan for renovations to the Houses of Parliament. An independent sponsor body to run the project has been scrapped after it was estimated that without a full decant from MPs the project could last up to 76 years and cost up to £22billion. A restoration and renewal committee tasked with identifying options for future work is due to report by the end of the year.
MPs were cautious about approving a multibillion-pound plan for the Palace of Westminster, Cable said, because past experience showed the expected costs were almost certainly underestimated. "It's hard for MPs to go out to the public and say, 'We need billions for the works' when it's so expensive to maintain and upkeep new buildings," Cable said.
Portcullis House maintenance was no exception. Twelve fig trees in the atrium have been leased at a cost of £148,000 over five years. They were then removed to prevent them from falling