QBack-to-back ueensland State of Origin Series wins – their first since 2017 – thanks to a dominating 32-6 Game 2 win at Suncorp in front of a cheering home crowd will only add to the Maroons lore. Yet for New South Wales it was a humiliating and self-inflicted defeat, which brought the Blues to a crossroads where tough decisions must be made.
The Tortoise and the Hare is an apt parable both for this series and for the Billy Slater-Brad Fittler coaching rivalry. For two years, Slater was deliberate and methodical in his approach – in planning and preparation, team selection and trade rotation, and how to deal with game plans and players who went unselected. All eventualities have been prepared. There's nothing sexy about Slater's approach, but Queensland just went into every game confident they were ready and wouldn't be disappointed by those off the pitch.
Fittler, on the other hand, has opted for an increasingly dangerous combination of risk-taking and stubbornness throughout this series. His approach has at times been kamikaze in nature, showcasing a resounding self-confidence in the face of common sense and popular opinion that has led to moves few others could understand.
It was slow and steady against a desire for quick fixes and a devotion to impulse. And that led to Slater winning four of five games against Fittler.
For the first time in the past six years, Queensland have not only been favored, but heavily in the 2023 series. But the burden of expectation has not weighed on them, nor has pressure from New South Wales . Slater has reinstilled the resilience Queensland have made famous – an ability to absorb pressure and seize opportunities when they arise. Seven line breaks and six tries in Brisbane, despite being well beaten in the possession stakes, is testament to the patience and ruthlessness of the Maroons.
Luck, of course, plays its part in all sporting competitions and it was the Maroons who had the upper hand on the green in Brisbane. Queensland's first try was questionable at best with potentially two strikes in play while their second appeared to come from a forward pass. Tom Trbojevic's early injury has derailed all of the Blues' plans. The best team won, but in truth the best prepared team won.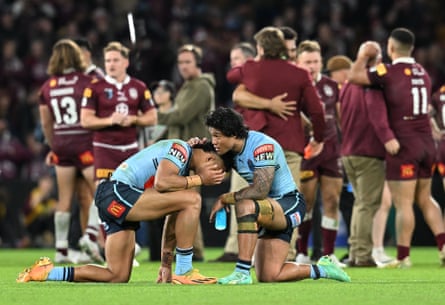 Damien Cook played 78 minutes of a game New South Wales needed to win. The Blues had 55 per cent possession but scored just one try and conceded 32 points to a Maroons side who had just 45 per cent possession. New South Wales had more tackle breaks, post-contact counters and assists, but were never in the game.
If that doesn't sum up the Fittler era, it does at least give a fitting eulogy for his final years. In the opener, when Trbojevic suffered the injury late, he opted for Nicho Hynes, despite having plenty of more suitable options to play in the center among a series of backrowers. Hynes conceded the decisive try playing out of position.