AGAINST ALL EXPECTATIONS
It's a former England midfielder's prerogative to change his mind and that appears to be exactly what Steven Gerrard has been doing in the two weeks since it was revealed he had 'received an invitation to look into a potential offer" to lead Saudi Pro League side Al-Ettifaq. While working as a pundit on Channel 4's coverage of England's recent qualifier against North Macedonia, the perma-crissed former Rangers and Aston Villa boss said he had "analyzed this over the past couple of days, but as things stand, I won't take up this offer." $tevie's stance has apparently changed in the fortnight since, prompting cynics to speculate upon what, or more specifically by how much, the size of his supposed salary might have changed to sign a two-year contract, managing an incredibly wealthy club in a league, sprinkling obscene amounts of petro-dollars to various players in an effort to raise its level and profile.
Although Gerrard has yet to announce that his decision was made specifically for footballing reasons, he has recorded a short video in Scouse-Arabic, and a rumored salary of at least £8million should help keep the Wolf out of the door of whatever Dammam des res he ends up hanging his hat in. dugout got off to a good start at Rangers before the wheels came off dramatically at Villa. He will now have the opportunity to rehabilitate his reputation away from the English league goldfish bowl, with any improvement he can imagine on seventh-placed Al-Ettifaq last season all but certain to catapult him straight into the frame. for any future leadership position. which could arise at Anfield or its local Costcutter.
Since announcing his appointment, Al-Ettifaq has been linked with moves for future Liverpool tyro Jordan Henderson (33)… and an even younger Brazilian brat with 'previous' Anfield named Philippe Coutinho. But given the Scrooge McDuck-style money pit the Saudi Pro League has invited various high-profile players and managers to frolic in, various critics have accused those behind him of rigging the international transfer market, an act of sabotage that many of them had little to no problem with timing various Premier League heavy hitters doing the exact same thing.
More concerned about the Saudi sportswash than the salaries of Karim Benzema or Cristiano Ronaldo, Amnesty International has asked Gerrard to shine a light on the state's record on equality and human rights. "The Saudi strategy on football seems to be to continue to multiply deals with big names to create the momentum needed for a bid to host the World Cup in 2030," said its director of economic affairs, Peter Frankental. "Fifa must apply rigorous human rights risk assessments to any Saudi 2030 bid, but we also need to see Fifa, star signings and top managers like Steven Gerrard speak out on Saudi Arabia's abysmal human rights record." Considering the only atrocious record Gerrard has ever felt compelled to talk about was directed by Phil Collins, we won't be holding our breath.
QUOTE OF THE DAY
"There's an old saying that you always have to know the best time to leave even the biggest party. And that's what my 32nd birthday was – the most fantastic party I could have imagined attending. From the first kick of the ball in live Premier League coverage to Manchester City's title celebrations last season – with plenty in between' – Sky Sports reporter and sideline presenter Geoff Shreeves signs after more than three decades with the broadcaster. Branislav Ivanovic may not be the first to extend his best wishes.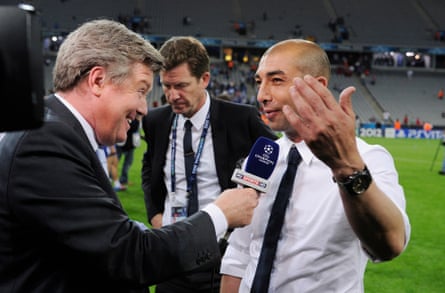 Dominik Szoboszlai had indeed better check out this supposed tattoo quote from Steven Gerrard (Yesterday's News, Bits and Bobs, full e-mail edition), in case it actually translates to: "Talent is a blessing God damn but if you can't keep a decent Villa team at the foot of the table you better think twice about taking that Saudi piece It's better than 'just hit Mamadou I'm thinking of throwing a Hollywood on Demba Ba', to be fair" – Jon Millard.
Never mind Sam Leitch's 'dancing in the streets of Raith' comment (yesterday's Football Daily letters). His finest moment came from the stand in October 1971, when he said: "In Scotland it's the last day in the League Cup where Celtic face Partick Thistle who have no chance." Cue a 4-1 partick victory. To this day there is a Thistle supporters club called 'Sam Leitch Loyal'" – Peter Storch.
It's worth mentioning that this is still commemorated by the presence of Martha Reeves and the Vandellas' Dancing in the Street as part of the pre-game music at Stark's Park" – Steve Parker.
In an ontological nightmare scenario, it's possible that Football Daily made up Guy Robert's letter of doubt about the creation of letters (yesterday's letters). The new season really can't come soon enough" – John Lawton (or is it?).
All of this reminds me of the time in the early 90's when I read a letter in the glossy magazine of a Saturday newspaper (not Big Paper) that was quite scathing about an article in the magazine of the previous week, about Gary Lineker's experience in Japan. I was very keen to read the article though, and luckily for me, the reporter who had been bullied in the letter lived in the same apartment as me, so I popped around to see if he had a copy that I could read. When I referenced the letter, he said, 'Oh, I wrote that too, we were short this week'" – Brendan Mackinney.
Send your letters to the.boss@theguardian.com. Today's winner of our Prizeless Letter of the Day is…Jon Millard.