Storm Antoni, the first the Met Office has named this season, has hit the UK, with forecasters warning that flying debris thrown about by high winds could pose a danger to life.
The highest recorded gust of wind was at Berry Head (78mph) in South Devon, followed by Cardinham (56mph) in Cornwall. The Met Office said both were tentatively the highest new gusts of wind for August at these locations.
Forecasters have issued an orange warning for potentially damaging gusts of wind in parts of south-west England and south-west Wales until 7 p.m.
There is a yellow warning for "unusually windy weather" in southern parts of the UK until 8pm, and one for abnormally wet conditions.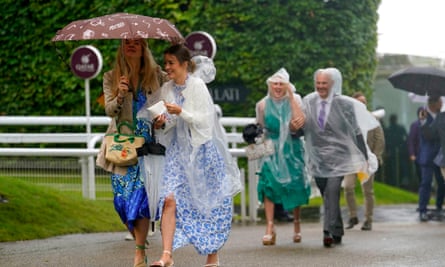 Met Office meteorologist Simon Partridge said 43mm of rain fell in Scarborough, North Yorkshire, almost half of August's average rainfall.
He added that Great Western Railway had warned passengers not to travel between Exeter and Penzance due to the number of fallen trees on the tracks, and that a number of roads had also been blocked in Devon and Cornwall.
"The rain is continuing at the moment, there is still quite a bit of thunder and rain, especially in the north of England and East Anglia," Partridge added.
"There was localized flooding. The storm will dissipate tonight, everything will be practically gone by midnight.
Met Office meteorologist Tom Morgan said of the conditions: 'For August it is very unusual. Indeed, the trees are in full leaf and therefore more sensitive to strong winds. Building structures, trees and temporary structures such as marquees can [not be] adequate.
"Beach debris could be washed up on coastal roads by waves, there is a risk of dangerous tides, riptides and power outages. Most travel disruption will come from [fallen] trees and branches.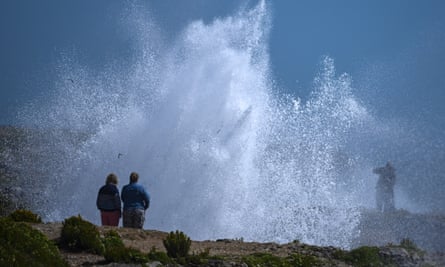 Saturday would also be "unusually cold for the season" with temperatures in some areas not exceeding 15°C, with highs of 19°C or 20°C on the south coast, Morgan said.
A number of people have been evacuated from their homes in North Yorkshire due to the flooding.
Cleveland police said residents of Loftus and Carlin How have been evacuated and firefighters and local officials are supporting those affected. Eight people have been evacuated from their homes in Clontarf, Dublin, due to flooding.
Several power cuts were also reported across Ireland, with hundreds of people in Carrigaline and Crosshaven in County Cork left without power on Saturday morning.
Rod Dennis of car services company RAC said: 'We expect Saturday to be the worst day on the roads of the summer so far, especially for anyone in the south west of England – and that's a lot of people, as our research shows it's the most popular part of the country for self-drive leisure trips this year.
"Conditions will be atrocious with a thoroughly unpleasant mix of very strong winds and locally intense rainfall. The best advice is to slow down considerably to stay safe and avoid moorland and exposed coastal roads until the storm passes.
"Drivers towing caravans and trailers should be especially careful in these conditions and those with boxes and bikes on the roof should check that they are properly secured. Drivers should also be aware of fallen trees and be prepared to the disturbances they cause.
The RAC estimates around 4 million cars will use the roads for leisure journeys over the weekend.
Organizers of the Brighton and Hove Pride parade said the weather would not stop this weekend's celebrations. Revelers turned out to cheer on the event on the seafront despite yellow weather warnings.
Paul Kemp, chief executive of Brighton and Hove Pride, said: "We've encouraged people to wear ponchos so it might be a bit Glastonbury."
Bad weather forced the organizers of other outdoor events to cancel their plans.
The LooseFest music festival in Newcastle, which 60,000 people were due to attend, was canceled just before the doors opened due to security fears.
More than 80 artists including Craig David, Patrick Topping, Sean Paul and Example were scheduled to perform.
Eliot Walker, organizer of Dorset's annual Stompin' On The Quomps jazz festival, said he was "disappointed" to have had to postpone this year's event, which 10,000 people were expected to attend.
Sunday is expected to be brighter and less windy, with temperatures up to 22C in southern England.
Temperatures will start to rise next week, peaking at 27C or 28C on Thursday in the south east, highs not seen in the UK since June, the Met Office said.