The Lara Croft Collection has just arrived on Switch, bringing together descendant arcade treats Lara Croft & the Guardian of Light and Lara Croft & The Temple of Osiris. We decided to discuss these fascinating and playful parts of the Tomb Raider back catalog.
Cris: Good morning! I thought this might be a good opportunity to talk about Tomb Raider with you, because it's a series we both love, and these newly released games are a weirdly interesting entry point for them.
I see this series as sitting between the original Crystal Dynamics trilogy and the reboot trilogy, which I know you love – except for the last game. Anyway, just to start, are you a fan of this style of Tomb Raider? And how would you describe it? Sounds like an arcade, almost two-stick version of a series that's usually a little more cinematic, often a little more willing to take its time with things?
Victoria: I think you pretty much succeeded. These games really have that arcade feel and are quite different from the other, as you say, more cinematic, Tomb Raider entries.
I actually think they're all the more charming for that, especially when combined with their isometry. Don't get me wrong, I love Big Adventures with Lara, where we're transported across the world in a thrilling, mythological adventure, but perhaps these more condensed spinoffs seem more accessible, or at the very least less daunting, for someone new to the show.
In fact, I say all of this casually as if it were hypothetical, but I played these games with my husband. This is his first Tomb Raider experience and he's really enjoying them, especially the puzzles and the – in his own words – "surprisingly smooth" platforming. I don't think he expected Lara to be able to jump and roll so smoothly between ledges and away from enemies. Even the two-stick fight appealed to him more than he thought. The 360 ​​degree rotation of the stick can make for some pretty frenetic clashes, but you don't have to be orderly and controlled in these Lara Croft games. You can really "spray and pray", so to speak.
Cris: Just to give people an idea these games are top down/isometric affairs where you move around dungeons blasting enemies and solving simple puzzles. By the time the first one came out, it felt really luxurious – a smaller arcade title, but with a triple-A expense feeling behind it. Guardians of Light especially feels like Crystal Dynamics is experimenting with the format a bit, sending it in a co-op, score-hunting direction.
It reminds me. I went to Crystal Dynamics when they were working on the reboot, and I remember they basically had an arcade cabinet set up for Guardians of Light in the office. It seemed like the perfect way to meet them.
What interests me, I think, is the flexibility of the Tomb Raider series. I feel like the action element is something that games always struggle to balance. In the early games they sold on a protagonist with dual guns, but those Core games were always at their best when you were alone, miles away from the rest of humanity with no one to shoot at. Then the early Crystal games pushed it a bit in terms of shooting and things you could do in combat. And I always felt the reboot series drifted a bit far to become third-person shooters? But the weird thing about Guardian of Light and the sequel – I never remember its name – is that they gave themselves the right to be very, very action oriented – you move, you pull – and it really does end up looking like Tomb Raider. Why do you think that is?
Victoria: Well, not to be too hard on the reboot trilogy, because I really like the first two entries in the 'Survivor' timeline, but I think it helps this in Guardian of Light and Temple of Osiris (that's the second one) you are actually in tombs and looting them.
I agree that some of the more recent games have lost sight of this a bit. As you say, they were leaning towards being a third-person shooter, with real tomb raids becoming more of a side feature. There were times when it felt like the essence of the series was stepping back in an effort to keep up with the world's Uncharted (ironically, when you consider the first Uncharted was dubbed "Dude Raider").
This Lara Croft spinoff, however, feels in many ways like a return to the show's roots, though it's also incredibly different in presentation and playstyle.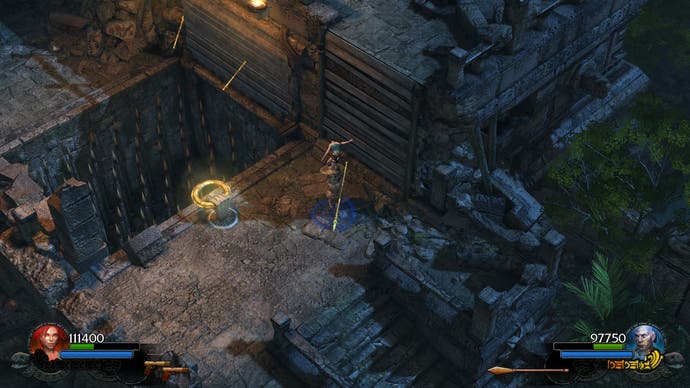 Cris: Yes! You made me realize something. I'm not sure Tomb Raider was ever quite what people think it is. At first, a lot of people were attracted to ads that didn't really show that they were quiet, cerebral games most of the time, games about exploring complex 3D spaces while mastering a control scheme complex. Then later games, as you said, promised Lara in Uncharted, but I don't think the tone ever worked out.
But here you get a slice of the game that feels very close to what many people think Lara Croft is – fast-paced action set in crumbling ruins. And it reminds me of Lara Croft Go. Did you play that? It kind of goes completely the other way around and says Tomb Raider is always about puzzles, so everything is a puzzle – including traversal and combat?
I guess what I'm wondering now is if there are other series that manage to create such fun and invention by drawing on the public idea of ​​what they are?
Victoria: You know, now that you mention it, I'm not sure there is. Other games have tried, but I don't think they've ever had much resistance. My mind immediately goes to the Uncharted mobile spin-off which I have to quickly google to remember its name. Two seconds.
Fortune hunter! It's this one. Anyway, it closed last year. I also remember playing an NCIS spin-off game, but that's a conversion for another time.
So getting back to what you actually asked before I got completely distracted, I can't think of another series that has succeeded, as you say, in altering public perception in the manner of Tomb Raider . Maybe some of the Nintendo games, but they tend to jump around to focus on different characters. The Tomb Raider games and their spinoffs are all about Lara. Do I make sense?
And, surprisingly, I haven't actually played Lara Croft Go, but now feel like I should (especially since I played the NCIS one).
I realize now, as I write all of this, that one thing I particularly like about these Lara Croft spin-offs is that they can be played co-op. It's not typical of the series, although a few moments ago I was saying how much they feel about returning to Tomb Raider's roots.
Like you said, that's part of the fun and invention that Tomb Raider seems to have spawned. I'm rambling now, so I'll give it back to you. Please take back control of this conversation.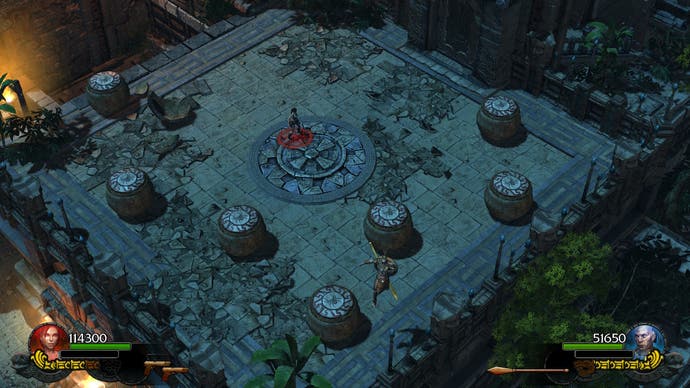 Cris: It's funny you say that on the co-op side. When I played Core games as a student, even though they were single-player, we tended to play them cooperatively in an unofficial way: one person with the controller, the other person throwing out ideas and suggestions. . God, those games were tough.
Which reminds me, I remember those two top-down cases as being a bit of a delight. Are they still delicious on Switch? It's like a natural home for them.
Victoria: Ha, I love that you play them that way. I sometimes play games like this with my kids, where they act as my co-pilot. Let me tell you they got me in some pretty hairy trouble (RIP, Ratchett)!
As for those Lara Croft ports, from what I've played they're a great addition to Switch's catalog of games. Guardian of Light is exactly as I remember it from its initial release, and I'm sure it's not just a case of rose-tinted glasses. It really feels like a really smooth port.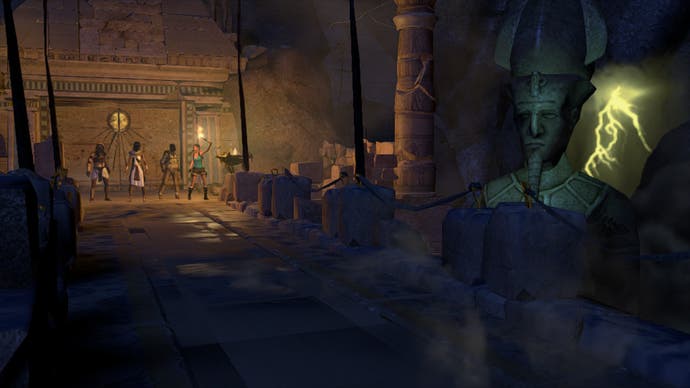 Both scenarios are a load of old hokum, and I mean that in a good way. The visuals are still lovely and the gameplay, as you say, feels right at home on the Switch. They were easy to pick up and settle into after a long day of work/kids/beautiful general mayhem, and are probably a good, if surprising, entry point for anyone curious about the Tomb Raider series but has been put off by the scope of its core offerings.
It might have been nice to introduce an online co-op option, because right now it's limited to local co-op only. However, I can't tell you how great it was to share this experience with my husband. He usually doesn't like games, so the fact that he enjoys them as well is quite a compliment.
Also, bonus points for the fact that I can hear Keeley Hawes as Lara again. She really is the best Croft.
Cris: No disagreement there.