Next week, Netflix's longest-running show is set to return for a new episode – and no, we're not talking about Grace and Frankie.
For ten years now, Netflix has handed out its quarterly earnings calls in the form of video interviews, with several executives joking with an analyst on camera. Tens of thousands of people watch these calls every quarter, far exceeding interest in earnings calls from other public companies, and Netflix executives have learned over the years to put on a show.
Former CEO Reed Hastings used to show up in themed clothing, including a squid game tracksuit and a foreign thingit's an ugly vacation sweater. Executives routinely joke about their love for guilty pleasure shows like Too hot to handle, and sometimes even veer into off-color territory. In early 2014, Hastings joked that HBO CEO Richard Plepler's streaming password was "Netflix b*tch", leaving the analyst conducting the interview momentarily speechless.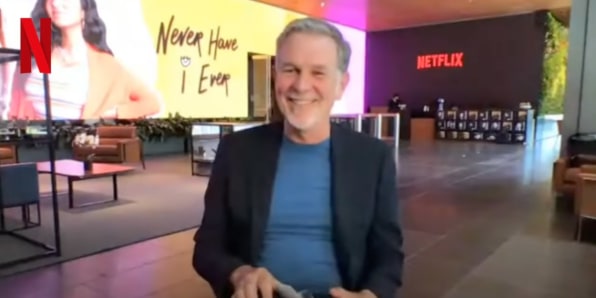 Eight years later, Hastings interrupted a fellow executive mid-sentence to announce that the company was looking to run ads on its service, a major shift for its business model. "Reed basically let it slip on an earnings call," said veteran media reporter Peter Kafka.
Netflix's earnings calls are unlike any other public company – and it all started with a faux pas and a slap on the wrist.
Like fireside chats with shitty webcams
In July 2012, Hastings took to Facebook to reveal that the company's customers had streamed over a billion hours of programming in the previous month. It was an exciting step for the company, but revealing it on Hastings' personal Facebook page got the company in trouble with regulators, who alleged it violated public company disclosure rules.
The Security and Exchange Commission briefly threatened Netflix with an injunction, but ultimately let the company off the hook with a warning and detailed how companies could use social media to disseminate information to investors in the future. . A year later, in July 2013, Netflix used the rule change to make its first earnings call as a live video on YouTube.
"We've always admired the fireside chat format at investor conferences as the most dynamic and engaging," Hastings told viewers at the start of this call. "It's our attempt to bring that value to the mainstream online."
Hastings leaned close to his laptop's webcam for that first call. "I hope the quality is acceptable," he said, while someone in the background could be heard adjusting the volume on their computer. Lanky and with a tendency to slouch, Hastings barely kept his chin in frame as the call continued. Unflattering lighting, whistling microphones, and a barren off-white wall completed the picture. If the famous Room Rater Twitter account had existed at the time, they would have likened the performance to a hostage video.
Netflix has been beaten to death
This first call was not only marred by technical problems: it also arrived a few days too late. Netflix executives really wanted to be the first to use video for revenue calls, according to a source familiar with their thinking at the time who spoke to fast company provided you do not identify them by name.
Four days before they got their wish, then-Yahoo CEO Marissa Mayer made her own earnings video call. However, Yahoo's more tightly choreographed presentation, which used a presenter's desk and teleprompters, seemed stiff and scripted, with some comparing it to a Saturday Night Live parody. Shortly after, Yahoo returned to a traditional earnings call.
The post-earnings analyst chat, which most U.S. companies follow, is a tried-and-true format that hasn't seen much innovation over the years. Audio-only conference calls typically begin with classical music while everyone waits, an investor relations employee recites a long list of regulatory disclaimers, followed by prepared remarks by the CEO, and finally a a dry Q&A session with these analysts.
"There are a lot of standard parts in winning calls that are just a stupid waste of time," Kafka says. He was actually invited as an interviewer on a few of Netflix's first video calls, when the company was still pairing journalists with analysts. "The pitch was this: you can ask for whatever you want," Kafka recalls.
Ultimately, Netflix decided to have only one analyst to host the interviews. The company also invested in proper cameras, lighting and sound, and eventually began pre-recording calls to address quality issues before uploading them to YouTube, a change that caused some journalists to double-watch the videos. speed to be the first to discover. all the juicy bits.
A new era for Netflix earnings calls
The early days of the pandemic saw a brief return of sloppy earnings videos for Netflix, as executives tuned in briefly from home. Since then, the company has moved to a frequently reused formula and set of backgrounds that make calls look more professional. In a way, the evolution of the company's earnings call format mirrors its evolution from a feisty streaming pioneer to a massive incumbent with hundreds of millions of customers.
Coinciding with that, Netflix's earnings calls also lost one of their biggest wildcards: Hastings stepped down as CEO earlier this year, and he announced on the Q4 2022 call that in the future, he wouldn't be in front of the camera anymore.
However, Hastings didn't seem ready to leave the show altogether. "I will be in the preparation sessions," he promised. Maybe he will even manage to convince his successors to wear an ugly sweater from time to time.
Netflix's next earnings call is scheduled for 3:00 p.m. PT this coming Wednesday.