Leading British archaeologists and paleontologists are warning that one of the country's most important Paleolithic sites is under threat because there is not enough legislation to protect it.
They are calling for changes to the law, fearing crucial evidence at a Cotswolds site could be lost forever to the UK.
This is where Ice Age mammoths in an extraordinary state of preservation have been discovered, sparking excitement in 2021 from Sir David Attenborough and other experts.
The extensive remains of at least a juvenile mammoth, two young adults and six adult mammoths that roamed 200,000 years ago have been unearthed at Cerney Wick, near Swindon, along with tools used by Neanderthals, who likely hunted these huge beasts.
Much more was expected to be found in further excavations as only a fraction of the vast site, a gravel pit, had been explored.
Now, just as top scholars from universities and national museums were preparing to return – after seeking the necessary grants – they found themselves banned by the quarry owner.
DigVentures, a team of archaeologists that gives the public the opportunity to participate in excavations, excavated the site and coordinated analysis and research with leading experts in 2021.
At the time, co-founder Lisa Westcott Wilkins praised quarry owners Hills Quarry Products for giving them the time they needed, while the company itself said: "We will continue to support future investigations. "
Now the Observer saw a July 18 email from Hills Quarry Products to DigVentures telling them that access to the site "will no longer be available" and that they "formally request" the return of the finds.
Westcott Wilkins told the Observer that his group was ultimately powerless to prevent the site from being dug up by someone else, adding: "Better protection of these sites is paramount."
She expressed her frustration that any further findings could be taken away in the absence of legislation that would prevent this. "Export licenses would be difficult to implement in this case because they do not cover bones unless they are altered by human hand or are clearly cultural objects." She said other potential finds, including five tusks, are already visible in the layers.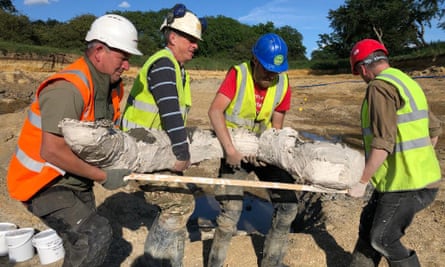 There is disbelief among the archaeologists involved at the demand to return the finds already uncovered. One tusk is on display at the Bristol Museum, the rest being in conservation. There had also been discussions about building a public outreach center to display the rest of the collection.
Sources within the archaeological community told the Observer that they understood the United Arab Emirates (UAE) might be linked to the latest developments, perhaps hoping to acquire more mammoth remains and Jurassic fossils for Abu Dhabi's new natural history museum. The United Arab Emirates has acquired exhibits, apparently buying a Tyrannosaurus rex skeleton for $31.8 million in 2022.
THE Observer contacted the UAE Department of Culture and Tourism for comment. The company that owns the site, Hills Quarry Products, declined a request for comment.
A photograph taken by a drone last Sunday suggests the waterlogged quarry was drained before what some archaeologists fear was a rushed search for finds.
Wilkins Westcott said: "We have five major universities as part of our research consortium because the site is so complex and challenging. This is the expertise you need to do this justice.