An added treat in all this great weather is the experience of everyone on my route having their windows open. We're letting ourselves into our daily lives a little more, and I'm hearing and feeling things I've never felt before. I may not know your name, downstairs neighbor, but by God, I sure know you use Lynx Africa. Lots of African Lynx. Honestly, about seven African Lynx corpses. Anyway, what are you playing this weekend? Here's what we're clicking on!
Alice Bee
I started up Alice: Madness Returns last night and you know what? It's extremely "that kid who works in the store selling Nightmare Before Christmas notepads" – but it's also really good! I forgot how weapons are mapped to different buttons, while the battle camera is a bit bleh the fight itself is deece. Also I like to become very small at will.
Alice0
I had a great time with Brotato in Early Access, and I'm seeing the just-launched Wave Survival Arena shooter in full. I played a lot, until winning on the highest difficulty with every character (and even some), so I'm fine with that.
Ed
Hopefully at this point I've recovered from the notE3 jet lag and have time to sit down with some demos. As a Souls lover, I need to see if Lies Of P feels like a Bloodborne impersonator that won't be as good as Bloodborne, because it's not Bloodborne. I'm also aiming to dig into the PS5 demo of Final Fantasy 16 which I only spent 30 minutes with. It looks cool ! Nice menus.
Hayden
Once again, it's Magic Prerelease weekend! My buddy and I have committed to doing four events for the new Lord of the Rings set, which… well, I think it'll be a miracle if we manage to get through all four in this heat. I'd love to make an Orzhov (black-white) deck around the new Temptation of the Ring mechanic, but we'll see what the booster draft gods give me.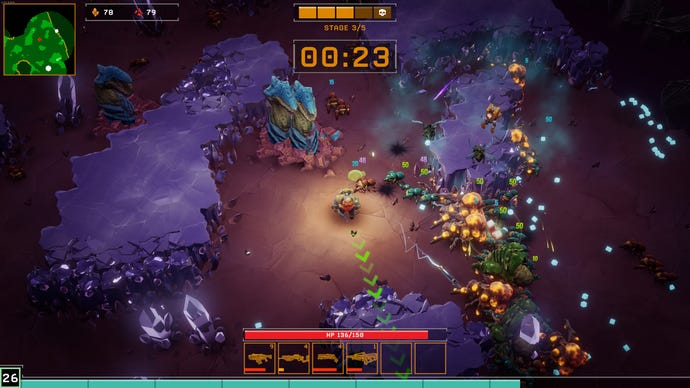 james
This weekend will be a weekend of playtests: I haven't been kicked out of Deep Rock Galactic: Survivor yet, and there's another closed beta for The Finals that I've been waiting for since the last one. At some point I'll play something that's actually finished, but not until, I don't know, Monday.
Katherine
Now that the onslaught of endless NotE3 streams is over, I'll dive back into Diablo IV to continue transforming my druid into a cool bear at every available opportunity. Then again, it's also my birthday this weekend, so the inevitable family entertainment will have to be organized alongside it. And maybe I'll play more Zelda: Tears Of The Kingdom as a little birthday present. Who can say?
Liam
I'm playing something secret right now (sounds more exciting than it probably is, but I'm enjoying it) so I can't really divulge what I'll be dealing with this weekend other than a man in costume will rappel through my window and hit me in the head. I play a lot of We Love Katamari REROLL + Royal Reverie, so definitely a bit of that. Katamari is the only good video game.
Ollie
I recently fell in love with The Cycle: Frontier, and play it whenever I have time. There's just no feeling like that. The atmosphere is extremely tense like other extraction shooters, but it's not a dark tension like Hunt: Showdown or Escape From Tarkov. It is a rich and luminous tension. The tension of watching the gigantic Howler fly overhead, searching for new prey. The tension of hearing footsteps next to you and realizing it's not your teammate. The tension of setting up an uplink and knowing that others will be able to hear your exploits halfway across the map, and you have no choice but to stay there until the job is done . I had almost forgotten how much I loved this game.
Rachel
This weekend I plan to finish Killer Frequency as I enjoy its campy slasher vibes. If you like puzzle games with a horror twist, I highly recommend you give it a try. You play as a late-night radio host trying to save callers on the show from a rampaging murderer. Brings new meaning to graveyard switching, doesn't it?
Rebecca
I try to limit my brand new games to weeknights, so my weekends can be spent managing a multi-year backlog. Yeah, that's really one of the ways I've tried to organize my life around this whole "hobby monetization" gig. Well, good job, the new Layers Of Fear is technically not a brand-new game and so it's totally legal to play on weekends, right? LAW?
---
But you, dear reader, what are you playing this weekend?