August 4, 2023
Good morning! Welcome to our regular column where we write a bit about some of the games we've found ourselves playing over the past few days. This time: animals in war, hidden words and inventories.
If you fancy catching up on some of the older editions of What We Been Playing, here's our archive.
Squaredle, browser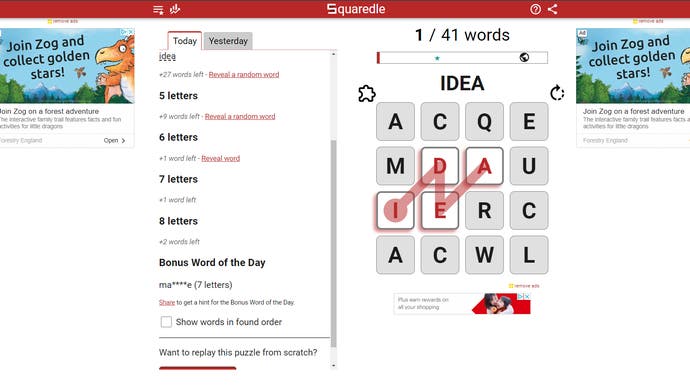 I'm addicted to Squaredle. It's another word-based web game somewhere between a word search and Wordle. In fact, it might be more like Boggle, now that I think about it.
Every day you are presented with a grid of letters and you must find all the words hidden inside by connecting the letters. Words must be longer than four letters and the longer the word, the more points you will score. It's as simple as that. And, as with all things that are deceptively easy, it's incredibly hard to put down.
I spent many evenings browsing my Squardle in an attempt to complete my grid (poet and unaware) before my husband completed his. Sometimes I only have a few words left, but for some reason I'm left completely confused. When that happens, I start wildly joining letters together, hoping the Scrabble-like gods will smile at me and I'll manage to squeeze a word out of the chaos.
Practically, Squaredle comes with a little dictionary-like feature, so when you find a word in the grid, you have the option to find out its meaning by tapping on an icon that appears. It turned out to be very helpful. For example, I now know what an aigrette is (it is a long feather worn on a hat or a piece of jewelry). Digerati are also on my radar now, thanks to Squaredle.
As I type this, I'm making good progress on today's grid, so I'll leave you here for now. You see, I only have seven words left to find…
-Victoria
Hero Inventory, Playdate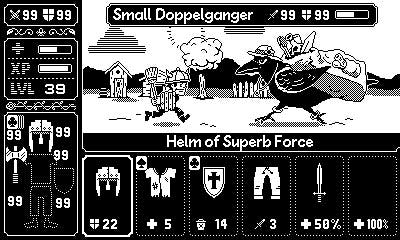 It's a pleasure to return to one of Playdate's simplest games. Inventory Hero is a fast-paced RPG where your hero battles monsters and collects loot, with the twist being that you simply control inventory. Equip items (they wear out quickly), drink potions and eat food to maintain HP flow, and dispose of junk that fills your limited inventory slots.
It's a simple premise, but I'm still thrilled by clever wrinkles. When I first played it was all about bunnies. Get one in your inventory and they multiply like, well, rabbits. It's madness to get rid of it.
During this game, I was obsessed with leaking potions. The longer you keep them in your inventory, the more HP they give. Given that Inventory Hero is often a game of waiting for the right moment to deploy something, there's real panic about it.
It's also very interesting. How many games have I played, and how many of them with potions? But until now, I had never encountered a leaking potion. Video games! There is always something new to see.
-Donlan
Iron Tails, Switch
The Switch has brought new splendor to many indie games on PC, and while I don't think Tails of Iron needs the help, it sure does look stunning on that enchanted letterbox screen. In this side-scrolling action platformer, you play as a rat prince, Redgi, whose father is run down in blood by a clan of marauding frogs. Rising from the wreckage of the dueling ground, you set out to rescue your kidnapped brothers and hunt the invaders to the swamps. Or more often, gut them. It is nature red in teeth and claws. In sword, spear and crossbow too.
I've been playing for half an hour at a time on the go, and this is clearly a well-crafted action-RPG with an alternately cute and gruesome style that eclipses the obvious debts to Dark Souls and co. The combat system relies on carefully timed kills, precision parries and dodging, with weapon choice heavily determining your tactics. Levels range from single-screen arenas to surprisingly spacious, even Metroid-esque dungeons.
Among the game's literary influences are the Redwall books by Brian Jacques, which I remember mostly for their chapter-by-chapter descriptions of banquets, but which featured quite a few gratuitous ax killings between courses (in all case, Tails of Iron has both ends of the spectrum covered – one of your missing brothers is the leader). Hand-drawn visuals are inspired by woodcuts, though brighter scenes look like stained glass. Did I mention it's narrated by Geralt de Riv?
-Edwin

To view this content, please enable targeting cookies.

Manage cookie settings