cargo pants are a type of pants that are characterized by their multiple pockets and their loose and comfortable fit. They were originally designed for military purposes but have since become popular in casual and fashion settings as well. The defining characteristic of cargo pants are the additional pockets that are usually located on the sides of the legs.
The reason behind so many pockets!
CargoThe pants were originally designed with multiple pockets to serve practical and functional purposes, especially in military and outdoor environments.
The abundance of pockets was intended to provide the wearer with convenient storage for various items and tools that might be needed during their activities. Here are a few reasons why cargo pants have so many pockets:
Utility and Functionality: Cargo pants were first developed for military personnel and outdoor enthusiasts who needed to carry a range of items while maintaining mobility. The additional pockets allowed easy access to tools, maps, communication devices and other essential gear without the need for additional bags or pouches.
QUICK ACCESS: The various pockets of the cargo pants are strategically placed to allow quick access to specific items. This is especially important in situations where immediate access to tools or equipment may be crucial.
Hands-Free Convenience: By distributing the weight of items across multiple pockets, cargo pants allow wearers to have their hands free for other tasks. This is particularly useful in situations where manual dexterity is required.
Versatility: Different pockets can accommodate different types of items, enhancing the versatility of cargo pants. For example, larger pockets may be suitable for carrying larger tools or equipment, while smaller pockets may hold smaller items like pens, compasses, or snacks.
Organization: Multiple pockets allow for better organization of items. This can be especially useful in outdoor activities, where staying organized can help with efficiency and safety.
Adaptability: The design of cargo pants has evolved over time to adapt to various contexts. While originally designed for military use, they have since been adapted to civilian and even fashionable wear. The many pockets can still provide convenient storage for everyday items.
Aesthetics and style: Over the years, cargo pants have also become a fashion trend. The abundance of pockets can add a unique and utilitarian aesthetic to the pants, contributing to their distinctive style.
It's important to note that while the original purpose of cargo pants was rooted in functionality, their popularity in fashion has led to variations that prioritize style over utility. Therefore, some cargo pants today may have decorative pockets that serve more for aesthetic purposes than practical storage.
Cargo pants are versatile and can be dressed up or down depending on the style. They are often worn with t-shirts, sweatshirts and trainers for a casual look, or they can be paired with more refined tops and shoes for a slightly more polished outfit.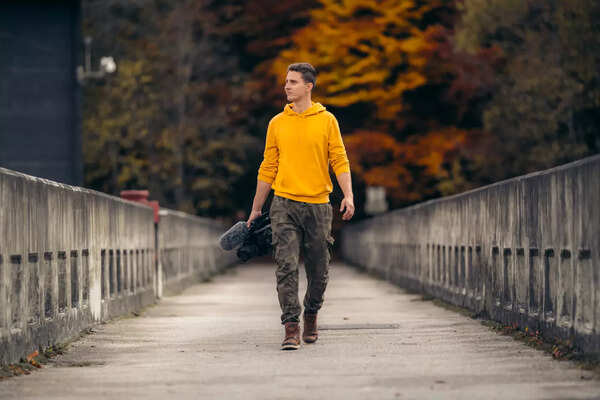 How to style them?
Cargo pants styling can be fun and versatile, whether you're going for a casual look or aiming for something more put together. Here are some ideas on how to style cargo pants:
Casual and sporty look:
Pair your cargo pants with a simple graphic tee or fitted tank top.
Complete the look with sneakers or sports shoes for a comfortable and casual outfit.
Consider adding a cap or baseball cap for an extra sporty touch.
This look is perfect for casual outings, running errands or hanging out with friends.
Streetwear atmosphere:
Combine your cargo pants with a stylish hoodie or an oversized sweatshirt.
Add a pair of trendy sneakers or chunky boots to give your outfit a streetwear touch.
Consider accessorizing with a chain necklace or beanie to enhance the urban aesthetic.
Chic and neat:
Opt for fitted or tapered cargo pants for a more polished appearance.
Pair them with a fitted blouse or button-down shirt for a balanced contrast.
Choose classic loafers, ankle boots or even heels to elevate the outfit.
Add on-trend jewelry, like earrings or a watch, to complete the sophisticated look.
Layered look:
Layer a lightweight sweater or long cardigan over a basic top.
Combine it with cargo pants and ankle boots for a comfortable and trendy ensemble.
Experiment with textures and colors to create an interesting layered effect.
Bohemian touch:
Wear your cargo pants with a bohemian-style flowing top or blouse.
Add ethnic-inspired jewelry, like layered necklaces or dangling earrings.
Complete the look with comfy sandals or espadrilles for a casual bohemian vibe.
Monochrome set:
Create a stylish monochromatic look by choosing cargo pants and a top from the same color family.
Add a contrasting waistband for a touch of detail and definition.
Finish with matching shoes, in the same color or a complementary shade.
Layered Outerwear:
During colder seasons, layer a stylish jacket or coat over your cargo pants.
Consider a denim jacket, a leather moto jacket, or even a long trench coat.
Wear with boots or trainers, depending on the overall vibe you're going for.